Well, I made it to the Isle of Mull! Be prepared for an onslaught of photo's, this place is breathtaking. The three hour train ride up here from Glasgow was worth every penny (1,400 of them).
Well, I made it to the Isle of Mull! Be prepared for an onslaught of photo's, this place is breathtaking. The three hour train ride up here from Glasgow was worth every penny (1,400 of them). I kept hopping back and forth from one side of the train to the other to make sure I didn't miss anything. I know I looked like a slack jawed idiot, but after all the obstacles I had had to overcome just to get my butt on that train, I was out of fucks to give about what anyone might think.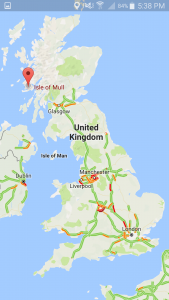 First of all, lets just start out by saying that Virgin trains is going to receive a very sternly worded letter requesting a refund for a train ticket they were unable to honor that originally cost me 110 pounds and ended up being worthless. I had picked Scotland as my next destination because I knew I already had ticket to Glasgow,(from Christmas) therefore reducing travel costs!  Turns out I was given incorrect information by an agent at Kings Cross…leaving me with a useless ticket. Even the agent at Waterloo where I went to plead my case agreed that I had been gazumped. I was able to re-book my return ticket from Glasgow to London..however by the time I had sorted out that I was SOL on the ticket up it was only a week before the trip and prices had soared, and options had disappeared. I was going to have to split my train journey from London to Oban into two days…leaving me in Glasgow for one night in between. Have you ever tried to find a last minute cheap room in Glasgow on Easter weekend? The cheapest was $84.(Or 65.7 pounds. That equals about two weeks worth of food, or 43.8 London bus rides, 27.4″Tube" rides, 16.4 pints of lager, 11 bottles of wine, 4.4 'day of' tickets for the National Theatre or 30 'Americano's. Shit.) Friends, I very very seriously considered just roaming about Glasgow all day and night until my train at noon the following day.  I even Googled "24 hour cafe's in Glasgow". Slim pickin's. My options were bars and casino's until the train station re-opened at 5. I had done this in London before…and for about a half a day I actually was planning on doing it in Glasgow as well. But then thankfully, reason prevailed. I know London, I am comfortable there, know the safe areas and have friends in case anything goes tits up. I knew NO ONE in Glasgow and had never been there before. Eventually I stopped pretending like it was a good idea, and realized that of course $84 is not more important than the safety of my bod…and booked the room.
The train ride from London to Glasgow went off without a hitch, although there was a bit of a surprise in that when the train stopped in Carlisle, it was not another train I was put on to continue the journey to Glasgow, it was a bus. Which was kind of fun, because even the passengers who had been in First Class on the train were now shoved into a packed bus with us plebeians, and you could SMELL the discomfort radiating from a few of them. One gentleman practically sat in the aisle for the entire two hour ride, his posh buttocks barely resting on his seat. My own seatmate was genial enough, but was rather large and smelled like old cat box and resignation.
It was a short walk from where the bus dropped us off to my hotel. Now, I am not going to lie…now that I was committed to spending the $84 for the hotel, I was very much looking forward to it. This would be my first hotel stay in over a year! I had booked into the Artto Hotel, which was directly across from Glasgow Central Station where I would be getting my train the next day. (http://www.arttohotel.com) The lady behind the desk was very friendly, and we chatted about our  various travel experiences. When she heard this was my first stay in hotel in a long time and how much I was going to enjoy it, she turned red and apologized that I was getting the smallest room in the hotel,  said that they were full, otherwise she would upgrade me. Of course I assured her that I didn't mind…and she gave me the key and up to my room I went. Boy, she wasn't kidding! The room was super tiny!! Just big enough for a single bed, small table and dresser. It did have its own bathroom, but no tub. Still, it was cozy and clean! I had been in the room for all of two minutes when the room phone rang. It was the receptionist..an larger room had opened up, did I want the upgrade? Well, hell yeah!!!Who turns down an upgrade? Went back down, exchanged keys and off to my new room. Big double bed, and a tub!!!! What luxury!!! And a television, so I would be able to watch the season premier of Doctor Who!!  I have to tell you…there have been few people in the world who have enjoyed a night in a "fair to middlin'"hotel as much as I did that night.
The next afternoon (after a lovely and restful night, with a full belly from the hotel Scottish breakfast ) I walked across the street to the train station and picked up my ticket from the machine. I had triple checked my reservation and knew my train was leaving Central Station at 12:05. I had about 25 minutes to wait and parked my butt on a bench and looked up at the board to find my train. Nada. Not up there…no 12:05 to Oban. Looked again at my res…then back to the board. Nope. So I looked at the ticket I had just printed. Oh shit. It said 12:20 to Oban…from Queen Street Station. I was at Central. I double checked the reservation number on the ticket with the one on my email, and they were the same. WTF????  My stomach did that flippy thing it does when I'm on a roller coaster, or when you see a police car behind you turn on the flashy light. I went to the ticket line and explained the situation and after doing the clickity clack on his keyboard for an eternity, he informed me that the train was now leaving from Queen Street and I needed to head over there. I had 20 minutes as it was now noon and no clue where it was so asked for directions. Have you ever heard a Glaswegian accent? It is unfathomable.  (You Tube "Glaswegian accent" and you will understand.)  I would have been better able to understand Romanian. The man saw my panicked uncomprehending expression, took out a map, highlighted a route and handed it to me. I think I understood his final words…"Aye, you better run lassie!"…or at least I understood their meaning. I ran.
Yes, I made it. By four minutes. If there is ever an Olympic event "running through a city with luggage"…I will OWN that shit.
So, here I am in my sweet little cottage…or "croft" which is the proper term. When I arrived in Oban, the ferry dock was right next to the station and I only had a 10 minute wait before being able to board. It was a delightful 50 minute ride. Not only was the view extraordinary, but there was a cafe and bar on board. I bought a half pint (1.30) and went topside and breathed in the pure,clean Scottish sea air.  Next was a bus…which was there waiting at the dock. I needed to meet the homeowners son in Salen, and paid 5 quid for a bus to drive me 11 kilometers. He picked me up, and then we drove another 20 minutes to the front door of my temporary home.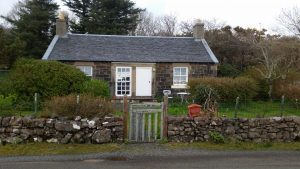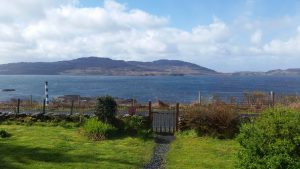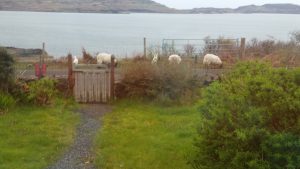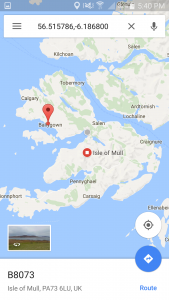 The closest shop is in Dervaig, which is only 4k from the cottage but takes 20 minutes to drive to due to the single lane road, hills, curves and sheep. The owner is letting me borrow her car, which is a huge convenience and for which I am very grateful. Oh, and the cottage is available on Airbnb! Take a look…the link is http://www.airbnb.co.uk/rooms/7218533?location=Isle%20of%20Mull
I have created two galleries.. the first is from the train and ferry ride, the second is of photos I have taken while exploring the island.
The next morning following my arrival I went for a walk down the cliffs to the water. The law in Scotland is that you are allowed to walk anywhere you like, even on private property. I found a path, but that was boring so I climbed down the rocky cliffs until I made it to the waters edge.
More adventures to come!
R.