I am a Wisconsin Green Bay Packers fan. (American football) I can't remember when it happened, as I grew up in Redskins country and remember cheering for them when I was small. (And I still
I am a Wisconsin Green Bay Packers fan. (American football) I can't remember when it happened, as I grew up in Redskins country and remember cheering for them when I was small. (And I still hate the Cowboys, their long term rival) But at some point I became a diehard "Cheesehead", and it was all down to one man…Donald Henry Huebner…or as I called him, Uncle Donnie. He was actually my mothers first cousin but they grew up together and were as close as brother and sister. Hence the sobriquet upgrade to "Uncle". I do not come from a very large family, so I loved going to visit my Uncle Donnie, his wife Aunt Lorna May and their three children in Wisconsin. Cousins aplenty! Rachel, Peter and Paul were all older than me, and tolerated me tagging along. Paul was closest to me in age, and he introduced me to many of my favourite sci-fi writers. Their house was always stuffed with Uncle Donnies collections. I loved the clock room best, when at least 20 clocks began to announce the arrival of a new hour with all sorts of different bing bongs, ding dongs, whistles, cheers and honks. To a nine year old, that shit was cool as hell.
I visited with Uncle Donnie, Aunt Lorna May, my cousin Rachel and her husband John on the tail end of  "The Trip of My Lifetime", but I am mentioning them now because three nights ago, my Uncle Donnie passed away from cancer. So pardon, but I am going to go out of order here, as I believe now is the proper time to share my time in Wisconsin.
Uncle Donnie was actually one of the main reasons I decided to do the trip in the first place. I knew he was ill, and I wanted to see him before he died, as afterwards would find any conversation on our part to be more than just a bit one sided. It had been a number of years since I had last seen him and Aunt Lorna May. At least ten, as the last time had been prior to my mothers death, and that was in 2008. And it had been at minimum 30 years since I had seen my cousins.
A visit was long overdue.
I admit to a bit of a selfish desire in visiting Wisconsin. Uncle Donnie was the last person to know my mother as a child. He was a connection to her and her life that would soon be gone forever, and in seeing Uncle Donnie I hoped that I could briefly feel my mother through him. He knew her better than anyone, probably even better than my father. After all, Donnie had known my mother for her entire life. She was an only child with a disinterested mother and no father, so she cherished and appreciated Donnie in a singular fashion. When we would visit, her and Uncle Donnie would giggle together over private jokes and shared shenanigans.
There is a connection formed through the bond of a friendship forged in childhood that is unique and can never be replicated.
I arrived in Madison WI, pulling up the drive of the very same home I had visited as a child. My dear sweet Aunt Lorna May greeted me at the door, and I felt a huge rush of love and nostalgia as she embraced me as if no time at all had passed since I last saw her.
As I entered the house, I saw that Uncle Donnie's penchant for collecting had not lessened in the least. Autographs, knickknacks, sports memorabilia, antique toys, dolls, photographs, games, and even a working casino slot machine filled the rooms to bursting.  I think Uncle Donnie enjoyed the thrill of acquiring one of a kind items…and the art of haggling for whatever caught his eye. I remember when the Huebners en- masse would visit us at our home in Maryland, inevitably we would end up in one of the nearby Civil War battlefields. Uncle Donnie would ask for the autographs of the park rangers, and create from them a framed unique momento of the trip. He was charming as all get out and I do not think anyone ever rebuffed his request.
Aunt Lorna May and I chatted for a bit as she updated me on his condition. He had been diagnosed with an aggressive cancer only eight months prior, and she had found herself in the position of having to move him to a hospice, where we would visit with him the next day.
As she led me to the room I would be sleeping in, I noticed that his collection had also spread into the upstairs bedrooms. Along side the cozy bed with the cheery yellow comforter were four life size dolls/mannequins that would be keeping me company throughout the night. Oh dear lord.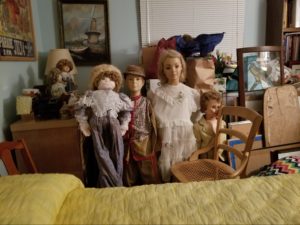 (We had a nice chat. I let them know upfront that any attempt at stealing my soul would be countered with Hail Mary's and Our Fathers out the wazoo. They assured me that I was in no danger but were curious as to what the hell a "wazoo' was. )
The next morning we headed off to the hospice. I admit to being a little nervous, as the last time I had spent time in a hospice was when my mother was in her final days, and I didn't know whether the experience would trigger any painful memories or emotions. Bless my Aunt Lorna May, she held my hand as we approached his room, not realizing that she was comforting me as much as I was her.
We entered the room, and at first sight of him any worries faded away. I was met with a huge grin, and that singular Uncle Donnie voice that I remembered so well, calling me by my childhood nickname of "Becki". (I attempted to banish that name when I turned 18, but my family were having none of it. Neither were my childhood friends, but that is another day)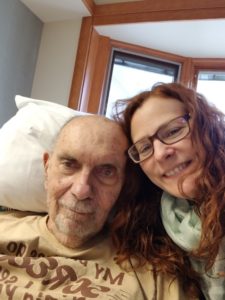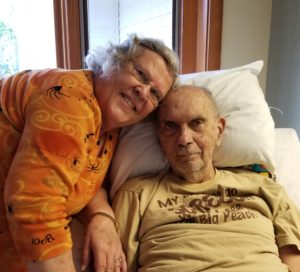 Aunt Lorna May and I spent an hour with him, chatting and reminiscing. He asked about my daughter Hannah, and I caught him up on her current adventures teaching 2nd grade at a school in China. His sense of humour was a strong as ever, despite his weakened state, and the room was filled with love and laughter. Eventually it was time to go, as our visit began to wear him out. As I hugged and kissed him goodbye, I tried so very hard not to cry, knowing it was the last time I would ever see him.
Aunt Lorna May held my hand again as we left. Without words, we comforted each other in our shared sorrow. Aunt Lorna May is stronger than she knows, and her presence and warm hand in mine gave me the strength to not succumb to the hard burst of grief that flooded through me as we walked out. I'm not even sure she was aware of briefly tightening her grasp of my hand, but that soft little squeeze changed my grief to gratefulness that I was a part of a family full of such love.
Later that day, my cousin Rachel and her husband John arrived at the house, and we spent a lovely time looking through their family photos. We had a good laugh when we came to the photos of me at Rachel and Johns wedding when I was thirteen and I informed them that I had gotten drunk for the first time at their wedding reception. A certain "Uncle" Frank had decided it would be hysterical to serve my 14 year old cousin Jay and I "Grasshoppers". We hadn't even known they were alcoholic, and after three of the damn things Jay and I ended up roaming around the golf course trying to set fire to the little red flags that were everywhere. Turns out the reception was chock full of grown up shenanigans as well, as Rachel and John shared with me the hilarious hijinks they were up to while Jay and I were running around like hoodlums in our wedding finery. We all went out to dinner, and I enjoyed re-connecting with Rachel and John as mutual adults, as the last time I had seen them I was in high school.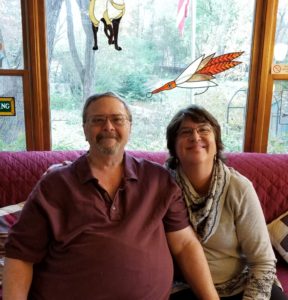 It was very difficult to leave the next morning.  Aunt Lorna May and I were both tearful as we hugged and I promised I would come back for another visit in the summer, this time for longer than just two nights.
I still have all the Green Bay memorabilia Uncle Donnie had gifted m with over the years. He gave me my Cheesehead, a number of footballs signed by Brett Farve, a signed Brett Farve  trading card and numerous official team jerseys. (I used to have a huge crush on Brett Farve. Ok, I admit, I still do. He can send me allllll the dick pics he wants, I won't tattle.)
The Packers haven't been playing so well this year. In fact, its been one of their worst. Do you know what I think? I think that the team knew one of their greatest fans was not doing well, and they were suffering in solidarity with him. But now, they have an angel in heaven rooting for them. And next year, well, I bet it will be one of their best ever.
Uncle Donnie, you will forever be missed by so many. But never forgotten.