Continued from my last post….BEARS!! After the surprise visit to the Bear Sanctuary we continued on our way towards Magura and Colin's friend Arabella. We drove through the town of Zarnesti and then headed into Piatra Craiului
Continued from my last post….BEARS!!
After the surprise visit to the Bear Sanctuary we continued on our way towards Magura and Colin's friend Arabella. We drove through the town of Zarnesti and then headed into Piatra Craiului National Park  where the movie Cold Mountain was filmed. http://romaniatourism.com/national-parks.html#PiatraCraiuluiNationalPark  We refilled our water bottles at a spring by the side of the road. I had never had pure, cold mountain spring water straight from the source before. Let me tell you, Zephyrhills, Dasani, Evian, Fiji, Belu… are all donkey ass water compared to what flows from this spring. Seriously. Go to Romania just for this fucking water. Fill a suitcase with empty water bottles, get on a plane, fly to Bucharest, rent a car, drive three hours and fill 'em up! (Colin has just piped up with the offer of arranging all of this for you, http://roving-romania.co.uk. He is only 20% kidding…)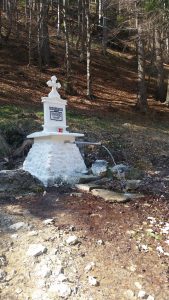 We started up a windy, steep road cut into the side of the mountain and then turned a corner and entered "Eden". Many times in the past two months I have found myself staring at incredible views that have left me capable of only limited speech. But nothing I had seen up till that point had prepared me for Magura.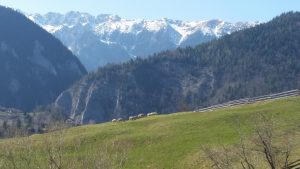 The view was stunning at this time of year, I can only imagine what it must look like in the summer with everything green and in full bloom. We stopped at a guest house well known to Colin for a bit of lunch…and as it was a warm sunny day we sat outside and I was able to take in the view while we noshed. Two furry companions joined us..and I dutifully shared my meal with them.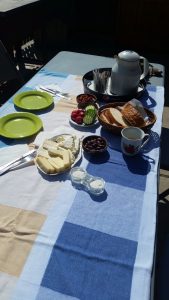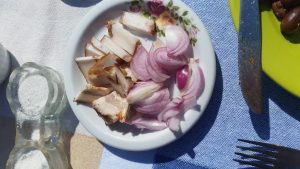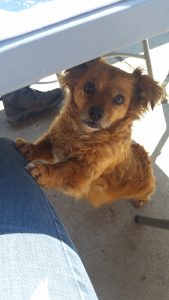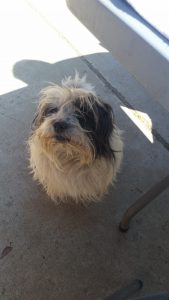 After lunch we finally made it to Arabella's! She was in fact only a short distance from the guest house where we had eaten. Her house is nestled in the foothills, right smack dab in the center of what to me looks like a big "bowl" of rolling hills surrounded on all sides by mountains. As is usual for Romanian villages, animals roamed freely about. Arabella herself has four cats, and we were periodically visited by a friendly dog and the occasional chicken. We were also joined by Marcus and his father Newby, two Scotsman. Marcus also drives a Land Rover, but his is a huge orange beast.  He runs off road tours throughout Romania, his website is https://www.transylvaniaoffroad.com/  He also has some lovely photos on his site.
I've grown very fond of the English ritual of "tea", and having it served outside on a warm spring day in Romania with the Carpathians in the background and new friends from the UK to chat with was delightful. Arabella is a writer originally from Sussex who has been living in Romania, and has recently published a book about her life. Unfortunately as of right now it has only been published in Romanian, so I will have to keep on her about publishing an English version! https://stakeintransylvania.com/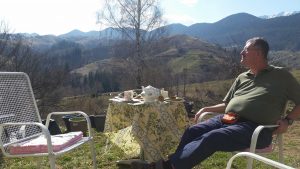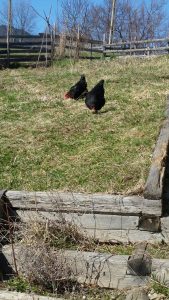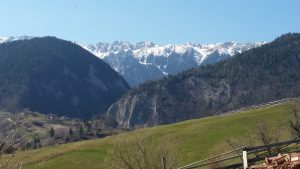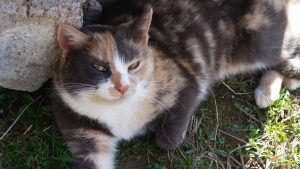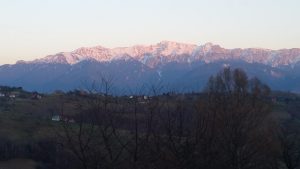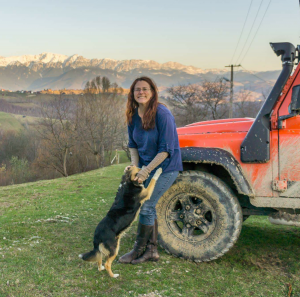 Finally as the sun went down, we piled back into "Vera" and started the drive back to Bod. We went through Bran on the return, and I got a shot of the castle looking much spookier than it does during the day!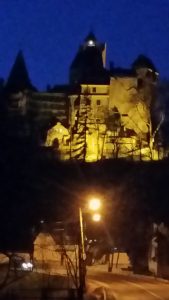 We stopped at a restaurant for dinner in the town of Rasnov. This is only notable for two things.  I mean, the menu and the décor. Romanian restaurant menus often have an English translation included, and sometimes the translations aren't quite "on". I have no idea what "breast cheese" might possibly be…or "grilled pork nape back head with garnish".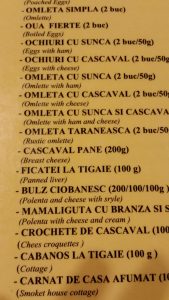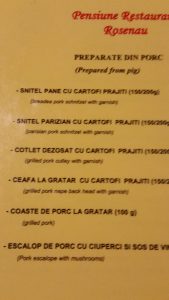 As for the décor, well…it was ironic. Remember my last post? Well…these decorated the walls…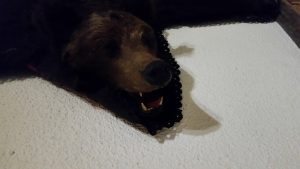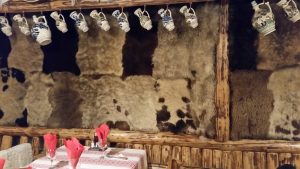 There were skins, and faces and heads everywhere. But the food was good.
I have created the gallery below which has the pics from above plus a few more. I discovered if I create a "gallery", you can enlarge the pics.
I fly to London tomorrow. It feels strange to be leaving this place I have called home for the past two months. Today I sat outside with the warm sun shining on my face and spent a good bit of time just listening to the sounds of Romanian village life. I cannot deny it…this place has changed me. I will be taking a bit of Romania with me in my heart tomorrow.
Rebecca