What do you imagine when you think of the word "village"?  Quaint homes? Thatched roofs? Peasants? I know I certainly had preconceived notions, images I'd gotten from books, films and slick travel brochures over the years.
What do you imagine when you think of the word "village"?  Quaint homes? Thatched roofs? Peasants? I know I certainly had preconceived notions, images I'd gotten from books, films and slick travel brochures over the years. Although to be perfectly honest I'd never specifically imagined a ROMANIAN village.However, I like to think I am self aware enough to understand that real life is very rarely played out in the manner it is portrayed in fiction. And Bod, the village where I have been living for the past two months seemed to bear that out. While there were the ubiquitous horse drawn carts…there was also busses to the city that trundled through daily, cars passing blaring modern music and enough shops in the village selling all the bric a brac needed for modern life. I'd seen a few gypsies about, but not in great numbers and other than stray dogs and cats and the horses pulling the carts there wasn't much sign of local livestock. So I figured that like the American small western town…"authentic" Romanian villages were a thing of the past.
Then Anne and I took our trip to Viscri, and as soon as we turned on to the 8km dirt road that lead to the village…we knew this was going to be different. My host Colin has told me about Viscri.. that it was still very traditional, and was home to a great Saxon fortified church that had been named a UNESCO World Heritage site. He also told me that Prince Charles owned a guest house in the village that he stayed at usually at least once a year. (It is available to rent the rest of the time so if you have ever fancied sleeping in a bed that living royalty has recently tossed about in…this is your best bet.) Being the modern cynic that I can be, I figured the village couldn't be TOO authentic if British Royalty occasionally turned up. I mean, there is horse poo all over the street even here in Bod…I couldn't imagine HRH tiptoeing through the turds. So I must admit….I expected a highly sanitized and touristy version of a traditional village….AKA a "Disney-fied" Viscri.
Ya'll, I was dead wrong.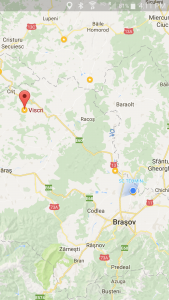 Viscri is north of Bod, about an hour and a half drive. Bod is the blue dot. (FYI.. that green bit the road goes through is a mountain.) Now, Colin had warned us that the road to Viscri was rough and he wasn't kidding.  The sign pointing to the dirt road that led to Viscri gave the distance as 8km but it was so bumpy and pitted it took us at least 40 minutes to travel the scant distance. Not to mention the few roadblocks we came across…such as this herd of sheep…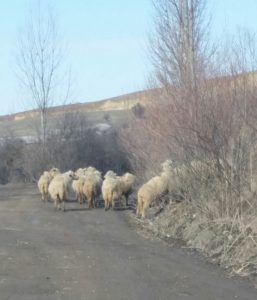 Dogs and horses…
Also along the road we saw pigs, donkeys, cows, geese, turkeys and chickens.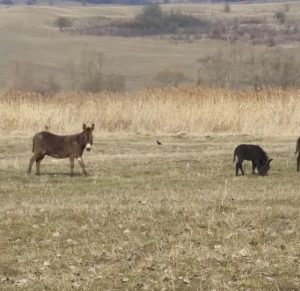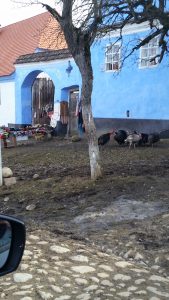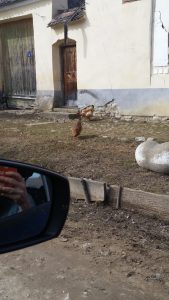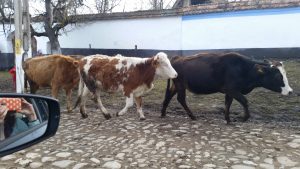 The architecture of the town itself was familiar as it was designed in the same manner as Bod…both of them being Saxon. A straight center street with all the homes flush with each other with gated courtyards in the middle.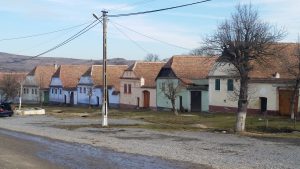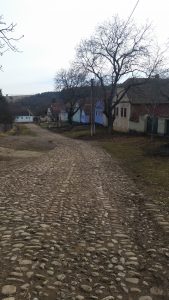 There was a very nice gentleman who met us as we drove into the center of town who was very eager to show us where the Prince Charles guest house was located.  I admit…I was expecting something a bit fancier. It looked just like all the other homes.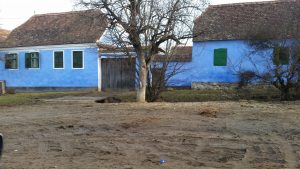 Yep…that's it. Dirt road and poo and all. Although I wager the inside is less poo and more posh.
(UPDATE- Apparently Prince Charles' guest house in Viscri is closed for renovation at this time, However he does have another, located a two hour drive east. The website is http://www.transylvaniacastle.com)
We wove our way down the street between the roaming animals until we made it to the Fortified Church.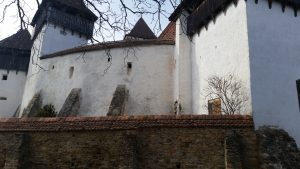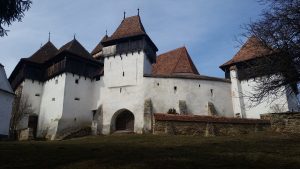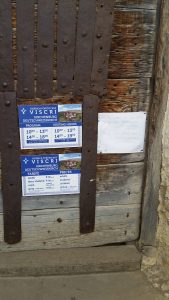 We walked up the hill, approached the church…and it was closed. According to the sign it would reopen in a hour, so we decided to take a walk around the town. that is also when we picked up Hector…our unofficial Viscri tour guide.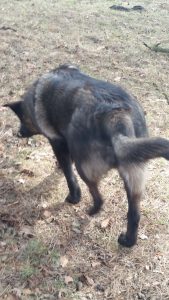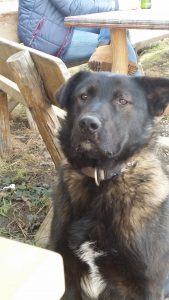 He stayed with us through our entire time in the village. He even escorted me to the "garden loo". (Turns out his "real" name was Blackie. I still call him Hector.)  We saw some signs for a café, so headed in that direction. Unfortunately it was closed due to it not being tourist season. However, as Anne and are "nosy boots", and the gate was open…we walked to the back of the property when we heard an odd thwapping sound. We turned a corner, and there were four people siting together beating the shit out of giant loaves of bread. Through hand gestures and my pathetic Romanian we were able to understand that the loaves were baked in large ovens and formed a blackened crust…which they were then beating off of the bread to reveal the delicious crusty loaf beneath. See, this is why I like to go places it seems like you shouldn't…you never know when you will come across a group of people "bread whacking".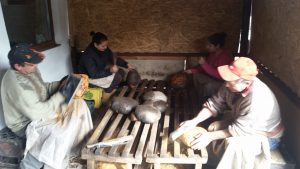 We went back to the church at the appropriate time, only to find it still closed. That is when I noticed a small handwritten sign with a phone number to call. So we called, and the lady said she would be there in 15 minutes(translation…45 minutes) to open the church for us.
A little bit about the Saxon fortified churches. You see, back in the 13th century…the king of Hungary invited Saxon(German) families to live in Transylvania tax free….helping to create a barrier between Hungary and Wallachia (Vlad)…not to mention the pesky Turks.  Remember this picture?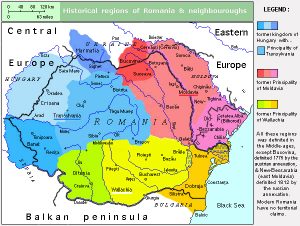 The Germans took the king upon his offer and moved into the area creating the Saxon villages that are still around today. However, the villages were in an area that was fought over constantly by competing factions. The clever Saxon's realized there was no way to fortify an entire village to keep it safe from invaders so instead, they fortified the one place in town where everyone gathered…the church. They built heavy stone walls around the church and created plenty of room to store food and every member of the village should there be any attacks. And there were. Many. Most villages were destroyed and rebuilt many times over.. but the people and livestock survived thanks to the fortified churches.
To our surprise, while we were waiting, another group of tourists showed up…from Spain!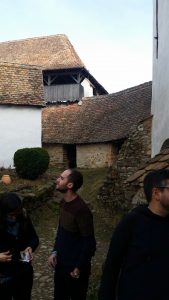 Finally the lady arrived and opened the church for us. We paid our 8 lei ($2)…and in we went.
These first photos are of the inside of the church itself.. the worship space which is still in use.  The church is of course Lutheran, having begun life as a Catholic Church and then switched over after the Reformation. (Lutheran and Orthodox are the prevailing religions in Romania… the Saxon's being Lutheran and the ethnic Romanians being Orthodox. )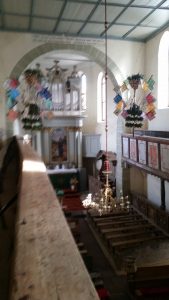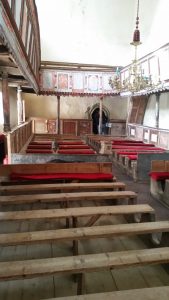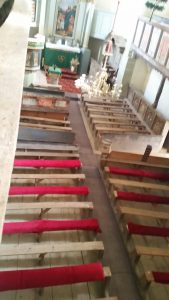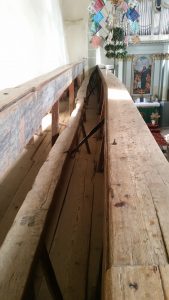 In the rear of the worship space was a steep stone staircase too tempting not to climb.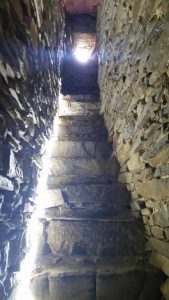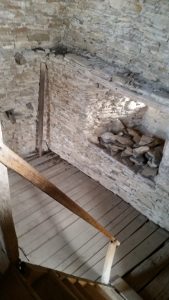 The stairs led up and up and around…eventually ending up as one small skinny wooden ladder that let to a wooden platform that surrounded the steeple. The view was amazing, but OSHA would have had a snit fit.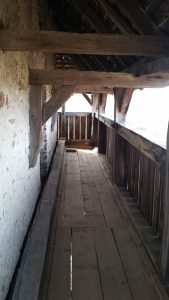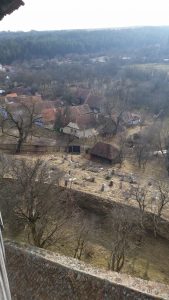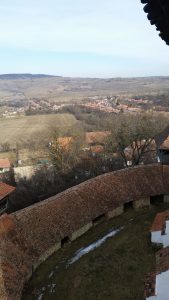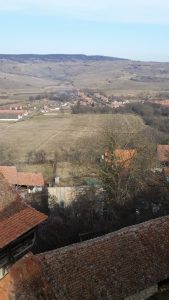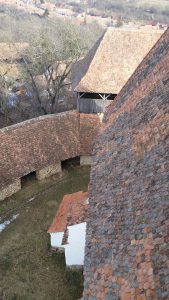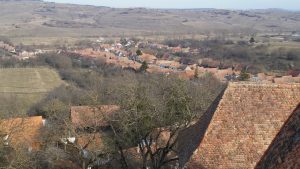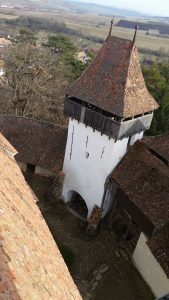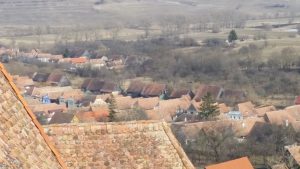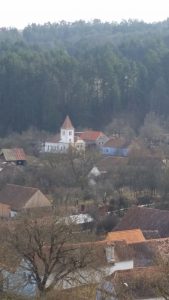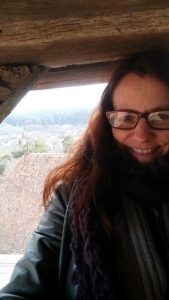 After traipsing all over the top and innards of the tower I finally went down an explored the inner walls.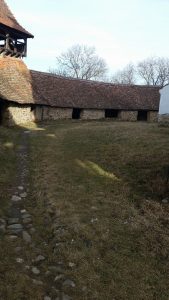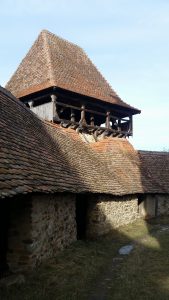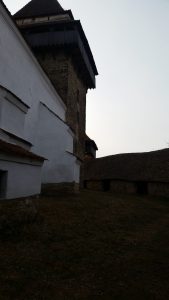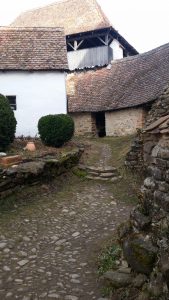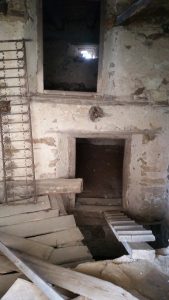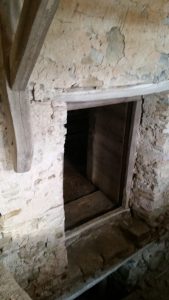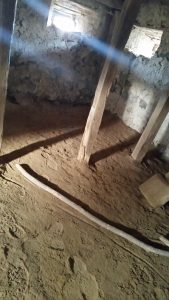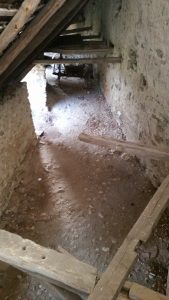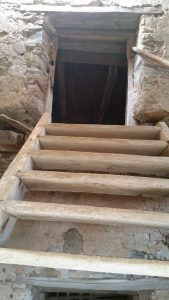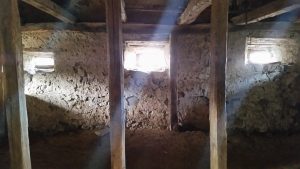 There were all sorts of rooms built into the walls. Some were where the people lived until it was safe to come out, and others had a different purpose. I'm not going to lie, I had an absolute blast climbing up and down the wooden ladders and in and out of the rooms and cubbies tucked into the stone wall. And no one yelled at me or told me to stop. I would go back again just to play. Of course it helped that we were basically the only ones in there, as the group from Spain had already left. I doubt I would have been given as much latitude had it been tourist season.
There was the "Lard Room', where they kept all the meat and well…lard…during their enforced tenure.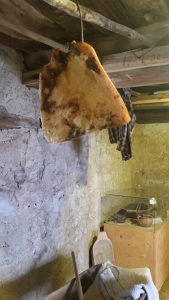 In part of the roof they kept large chests of grain.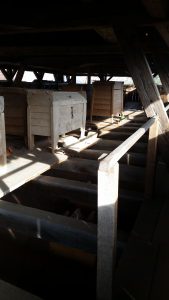 They turned a few of the rooms into displays on Saxon life during the time the fortress was being used. Here are what a typical Saxon Romanian of the time would have been wearing.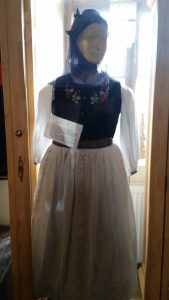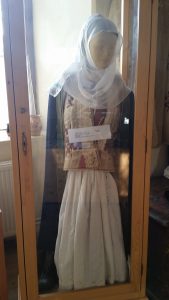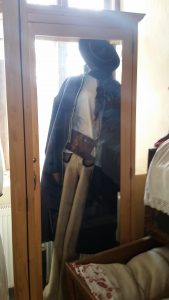 And a Saxon bed…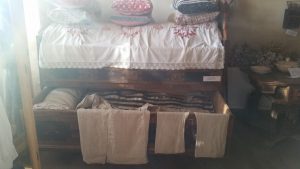 and loom..
Finally it was time to go. As we were heading out, the woman who had let us in told us that of the 500 or so people who currently live in the village there are only 16 people left who are descended from the original Saxon families, she being the youngest one in her mid 40's. Many of the younger ethic Saxons went to Germany as soon as the borders opened after the revolution in 1989.
Hector escorted us to the car. It was hard to say goodbye.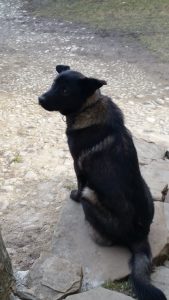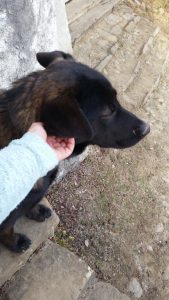 As we were driving out, the locals were bringing the animals in from the fields… the same ones we had passed roaming freely on our way in.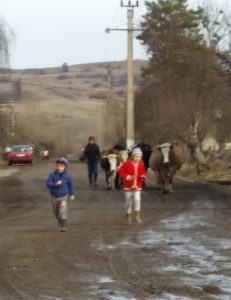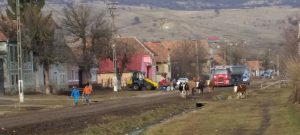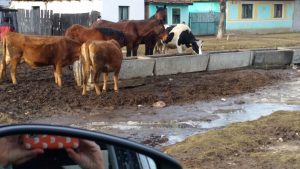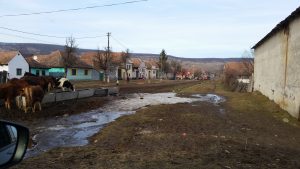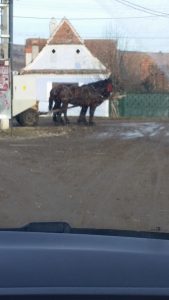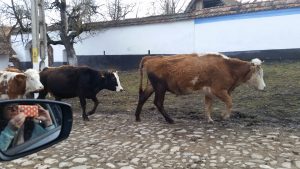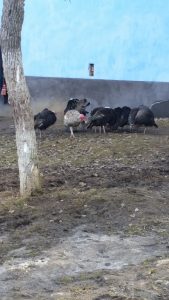 We followed another road on the way out that was in no better condition than the one we had arrived on. After Viscri, we passed what appeared to be a gypsy village. The difference was striking. Tumbledown shacks and corrugated roofs replaced the neat lines of the saxon homes. People were out and about, and as we slowly drove by, a young gypsy girl stuck her tongue out at me. I admit I did feel as if she had a point. I was an intruder staring bold faced at the poverty she lived in as I drove through her ramshackle village on the way to our guest house.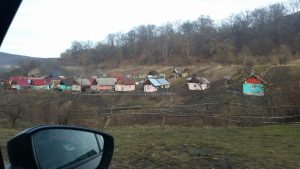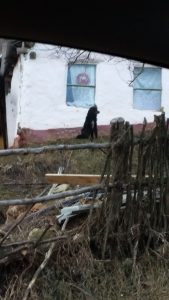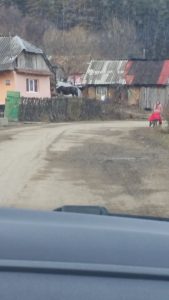 I must say, my day in Viscri was not only one of my favorite days so far in Romania, its was one of the most enjoyable since I started this adventure last June. I think I have mentioned it before, but it is worth bringing it up again…Romania is extraordinary and well worth a visit. If you are interested in visiting Romania, I highly recommend booking a tour with Colin, the Englishman whose home I am currently "sitting" in! His website is http://www.roving-romania.co.uk  No one… and I do mean no one… knows Romania better than Colin!
Next up..Sighisoara and the Salt Caves of Praid!
R.