So far there have been six different sets of guests here with me at the cottage, ranging from stays of one night to a week and a half. First off were a couple and their teenage
So far there have been six different sets of guests here with me at the cottage, ranging from stays of one night to a week and a half. First off were a couple and their teenage son from England, then a French couple, a young woman from Belgium, two university students living in Glasgow and a couple from Wales. The most recent guests (they have since left and a new couple from Yorkshire are currently here)-Ian and Marion- were also from Wales and brought with them their spaniel named Zoe…with whom it was my pleasure to spend the day with while they took a ferry to see puffins and Fingal's Cave.  https://en.wikipedia.org/wiki/Fingal%27s_Cave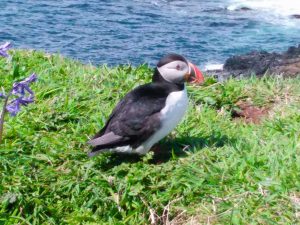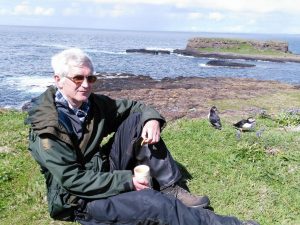 It was a perfect warm and sunny day so I decided to take sweet Zoe to Calgary, a hamlet on the northwest of the island.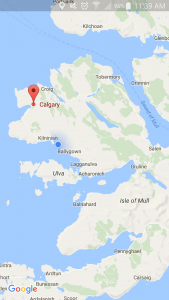 The name comes from the Gaelic Cala ghearraidh which means "beach of the meadow" as there is a small sandy beach tucked into the bay. I did work up the courage on a previous day to go into the water and nearly died from the shock of the ice cold water hitting my tum. Dear lord it was cold. But the water was absolutely crystal clear..I could still see my feet even when waist deep. (I couldn't go deeper than that…my legs were already numb and I needed them to walk out )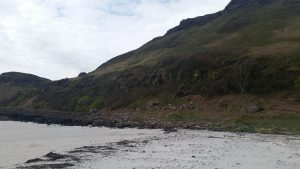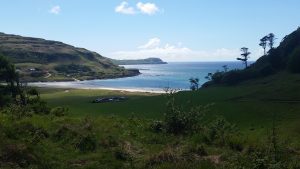 Up on a hill are the ruins of the former town of Inivea…a reminder of the damage done to the livelihood and towns of the islands during the "Highland Clearances". (An interesting tidbit…apparently the  actor David Tennant of Doctor Who and Broadchurch fame can trace his family roots back to that very spot)
During the 'clearances' of the 18th and 19th century, Scottish Lairds and factors decided to change from farming to the more profitable sheep raising, and evicted the tenants from their crofts on the island, often by burning the thatched roofs of the homes. Many of the displaced Highlanders emigrated to Australia and North America, with the group from Calgary naming their new home in Canada after their old one in Scotland. The stone ruins of the crofts can be seen all over the island.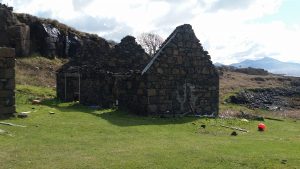 The Calgary of today consists of the beach with public toilets and a wee ice cream shop, a tea shop and art gallery, Calgary Castle, and a few homes scattered about.
Near the tea room and gallery is an 'Art Walk'…a path through the hills dotted with sculptures and mosaics tucked in along the way. After a brief encounter with a goose who had taken a rather disconcerting liking to me, Zoe and I started our way up the path. I admit, I was immediately charmed and felt like I had wandered into a fairytale village.
After finishing our walk, we headed to the shop for tea. We each had a biscuit(of different sorts), and I also had a bowl of parsnip and thyme soup. (Prior to my travels I could not have pointed out a parsnip if my life depended on it. Since then I've developed a liking for them…they are like carrots, but white in color and with a sweet spicy flavor. Excellent in soups and stews)
Later in the evening toward supper time, after returning Zoe in fine fettle back to her people Ian and Marion, we decided to eat at a small local eatery a bit down the road named 'Ballygown' which is run by the son of the woman I am house sitting for.  Gary and his wife Jeanette run the restaurant out of their home and at the most it seats about 20 people at a time. http://ballygownmull.co.uk/  Ian, Marion and I had a lovely meal…despite a weird bit of green in my lobster that I did not like the looks of, although I bravely gave it a try. I am guessing it was some sort of innard.  The prices of the menus items are fixed with starters(appetizers) at 5£, mains at 10£ and puddings (desserts…might be pudding, might not) also at 5£. As usual there were a few menu items I had to have explained to me-
Rhubarb 'fool'- whipped cream or custard with pureed stewed fruit…(in this case rhubarb) folded in. I had a taste and it was delicious.
Mutton curry- Curry I was familiar with as it is one of the most popular dishes in the UK. I was fairly certain mutton was 'sheep' but I did ask to confirm it was different than 'lamb'.
'Trifle'- a dessert made with fruit, a layer of sponge cake soaked in sherry or wine, and custard.
It was a delightful meal with delicious food, a cozy atmosphere and lively conversation which occasionally took a brief trip into the wonderfully absurd.  In fact, it was a grand day all round, from start to finish!
PS. Here is the link to the Airbnb listing for the cottage.https://www.airbnb.co.uk/rooms/7218533?location=Isle%20of%20Mull%2C%20United%20Kingdom&s=fQoIt4lG