I'm in Romania! And I must say, the trip from London to Bod, Romania was nearly effortless on my part. Even though in total it took about ten hours, I've found myself more exhausted just
I'm in Romania! And I must say, the trip from London to Bod, Romania was nearly effortless on my part. Even though in total it took about ten hours, I've found myself more exhausted just schlepping my luggage from one end of London to the other. I took the city bus from East Dulwich at 4 am to Liverpool Street Station, from there hopping on the Stansted Express train at 5:15 to Stansted Airport….a small International Airport north of London. Many of the lesser known and low cost airlines fly from there including Easy Jet, Thomas Cook, Pegasus, and the most well known and the one I will be flying…Ryanair. My flight to Bucharest cost a whopping $33, and that was with the optional additional cost of choosing a seat and a checked bag.  The base cost for my flight was 5 pounds. US airlines need to get on board with this. More people would take weekend trips to other states if the airlines would make their prices more reasonable.
I am the type who needs to get to the airport at LEAST two hours before my flight. None of that running through the airport bullshit for me. So of course I was through security and in the waiting area by 6:30am for my 8:40 flight. I was so early that my gate wasn't posted yet, but that was fine with me, I could sit my happy relaxed buttocks in a restaurant and enjoy one last official Full English breakfast. I also exchanged a $5 bill and a 10 lb note for 50 Romanian Lei, as I wasn't entirely comfortable not having any cash on hand in Romania. The exchange rate for the Lei is 1 lb =5.29 Lei, and $1=4.21 Lei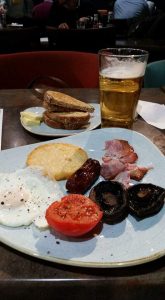 The flight was uneventful, the shuttlebus from Bucharest to Brasov was easy to find..and three hours late I was picked up in Brashov (pronunciation) by Colin, the owner of the home I will staying in for the next two months! He very kindly took me to dinner, and by 8 pm I was cozy and warm in a lovely house in the middle of the village of Bod.
For the past week, Colin has been driving me around the area, taking me food shopping and introducing me to local friends of his whom I can contact in case I have any problems, or just want some company! On Thursday I met his dentist, and scheduled an appointment to see him today (Monday the 30th)  to have a cavity filled… for the whopping cost of $25. (100 Lei) He is a very nice man, and came highly recommended…despite the fact that he speaks no English. Colin was leaving on Friday, so I knew I was going to have to make the trip from Bod to Brasov on my own. Colin had warned me that buses in Romania don't always follow the schedule, or even have the same pickup/dropoff points from day to day, but I figured…how bad could it be?
Pretty flippin bad, as I found out today. Colin showed me where the train station was in Brasov, which was where the bus from Bod would drop me off. He showed me on a map where the dentist office was. We had walked around that area, so I felt fairly confident that if a bus could drop me off at "The Black Church" (a large Lutheran church near the dentist) that I could then find my way. He had also shown me the three possible bus stops in Bod…and explained that sometimes they stop at all of them, sometimes just one. And….I discovered today…sometimes NONE.
Wanting to have as much information as possible, I googled the bus schedules, and the website looked impressive…with times and locations easily understandable. I found out which bus I needed to catch when I got to Brasov, and I felt fairly certain that I had a handle on things. Since my appointment was for 3:30 pm, I decided to catch the 11:30 bus, getting me to Brasov by 12:30…giving me plenty of time to get on the second bus and make my way to the dentist. I was really, really nervous about seeing the dentist, as I am the biggest baby on the world when it comes to dental work.  Stab yourself in the hand with a knife and need plastic surgery? No problem. Have a cavity filled? No. Have a cavity filled in a foreign country with a dentist who doesn't speak any English and whose equipment is the same as what my dentist Dr. Thompson used in the 70's? NO!  But there are things in this world that you have to do, and even if they scare the living shit out of you…you need to change your messy drawers, put on clean big girl panties…and catch the bus in a small Romanian village to a Romanian city to have your tooth drilled so that you don't end up missing one of your bottom front teeth and therefore severely limiting your dating pool.
So, I set off today and walked to the bus stop.. the one that had an actual "bus stop", you know, one of those little cubbies you wait under. I thought since it looked the most official, that it would be my best bet. I was wrong, although to be fair, I don't think there were any buses at any of the other stops either. Not that I could know for sure as it would have been impossible for me to run back and forth and check. I waited from 11:30 till 2pm, then chucked it. There was a gentleman who waited with me from 1-2, but I'm not 100% sure he was actually there for the bus. I dunno, there was just something about the way he kind of shuffled around..starting further away from me, and then over the hour moving closer and closer until he was about 10 feet away that made me think he had some other motive for circling around. Perhaps he was just working up the courage to ask for a Tic Tac. Anyway, by 2 pm I knew it was too late to make my appointment, I was cold and cranky, and as my 'companion" was moving ever closer…I decided to call it quits and head home.
Of course, I now had the problem of contacting the dentist to inform him that I was not coming and to schedule a new appointment. I've been here for a week, my Romanian is not nearly to the level required to have that kind of conversation, let alone understand what he was saying to ME. So I spent the next 40 minutes before the call translating on paper from English to Romanian exactly what I was going to say to him on the phone while also trying to anticipate what his response would be in Romanian, hopefully recognizing it and translating that back to English.  In case you were wondering, "Next Monday at 3:30″ in Romanian is " Luni la ora trei jumătate" ( pronounced "Loon, ora trey zhoomutateh") Well, it may not be that exactly, but after many "Da's" (yes) and "mulțumesc's" (thank you) we got it sorted…and now I have another week in which to worry about it. I think next Monday I will take a taxi…
My hand is doing well. the surgery was over a month ago now. As surgeries go, it wasn't that bad really. I had to go through the usual rigamarole of removing all of my clothes and donning one of the hospital gowns. In case you are curious,they are the exact same kind in the UK as they are in the states. There was a moment of amusing confusion, as the nurse told me to remove almost all my clothing and any jewelry I might be wearing as the metal interferes with some sort of medical device thingie….but I could keep on my pants. I thought that was odd…but obeyed. When she came back, she saw me standing there wearing only the gown and my jeans and said, "I'm sorry, you will need to remove your trousers"… and that is when I remembered that "pants" in UK speak means "underwear". Oops.
I waited in a lounge with three other women similarly robed for about 2 hours until I was called back. Everyone was exceedingly friendly. The anesthesiologist very politely explained that he was going to numb my entire left arm by sticking a long needle into my shoulder and poking it about until he hit the brachial nerve. I did not enjoy this very much, but it wasn't as bad as watching the musical Oklahoma! I was told it would take approximately 10 minutes for my arm to go completely numb. My arm began to tingle and feel like heat was rushing through my veins, and after a few minutes I began to lose control of my arm, so the doctor carefully placed it across my belly and covered me with a blanket.  The proceedings were all very civil.. nay, almost jolly! I was wheeled into the operating room, where the team was waiting for me. I say team, as there were 7 people in there bustling about…turning on lights, moving things around, making machines go "beep". I had a pair of surgeons…two handsome men who would have fit right in with the actors on E.R. or Grey's Anatomy. In fact…everyone in the room was attractive. They slid my gurney next to a table, and I looked about the room, fascinated by everything. The nurse and I started chatting, and I could feel the weight of my arm laying across my belly but wasn't nervous at all. I was happily chatting away when I happened to glance to the left and saw an arm laying across the table, perpendicular to me. I actually asked the doctors…"Who's arm is that?" One of the laughed and said, "It's yours! Whose did you think?" Well, that was ridiculous, as I could still "feel" my arm, it was right where the anesthesiologist had left it!  Except when I looked down, it was gone. I looked at the arm lying on the table, and I have to tell you, it was the oddest sensation, because that arm had nothing to do with me. My brain in no way acknowledged it. You know how when you fall asleep on your arm, and you wake up and it feels totally numb? Yeah, this was NOTHING like that.  THAT WAS NOT MY ARM. (Except of course, it was…)Right before the surgeons dug in, the nurse asked if I liked George Michael. I replied yes, so my surgery began with the tune "Wake Me Up Before You Go-Go" playing through the speakers.(He had just died the day before)I was so disconnected from my hand that I was able to watch the surgery without any discomfort at all, either mentally or physically. At least, I was able to watch until I asked the surgeons one question too many and the nurse was tasked with keeping my attention on her instead of my hand.
Eventually it was all over, and the doctors said it had gone well. I was wheeled back into the lounge where I was offered tea and a sandwich and then allowed to get dressed. This was a bit of a problem as not only was my arm numb…I couldn't move it. Have you ever tried to put on a bra under these challenging conditions? It proved too much for me and I had to get the nurse to help. Basically, with my right hand I picked up and moved my left arm about and she maneuvered the bra into position. Clearly she had done this many times.
And that was it! I walked out of the hospital with my arm in a big blue sling and took the bus back to where I was staying. There was one scary moment when I banged my arm on the side of truck as I squeezed between it and a pole and I became convinced I had broken my arm but couldn't tell because I was still numb. (I hadn't)
I get random pains in my middle finger as the nerves repair/regrow and sort themselves out (at the rate of 1mm per day).  In one spot it feels like its been burned, in another it feels like pins, and occasionally I get what I call a "lightening strike' when one nerve fires for no damn reason and it feels like lightning shoots down my finger.  About 1/4 of the finger has no feeling at all.  I've been doing my hand therapy and massaging the scar as instructed. It's a little tight…so I have to massage it with lotion three times a day for ten minutes so I don't lose full extension of my middle finger. I need that for when I drive…
I can't end the saga of my hand without giving a huge shout out to the NHS. For everything they have done.. from the initial visit to A&E, to the consultation with the plastic surgeon, the actual surgery and two follow up visits including physical therapy.  In every instance their one any only concern was taking care of me, and providing the best medical care. I am immensely grateful.
I've added a slew of pictures below…some of Romania and some from London before I left. I can't tell you how happy I am to be one place for the next two months!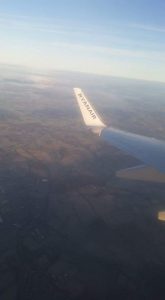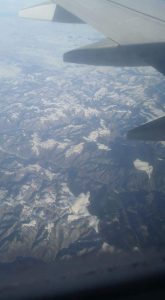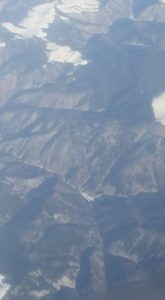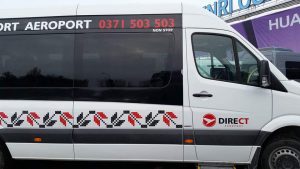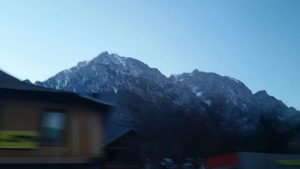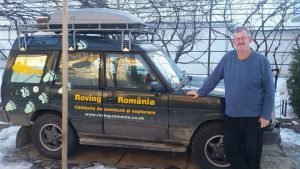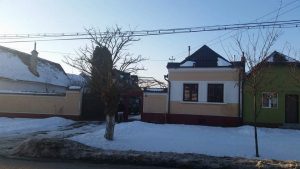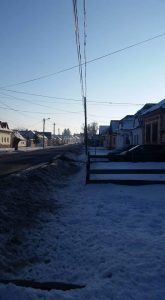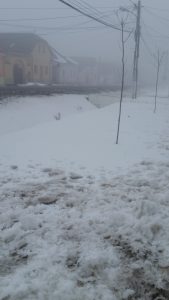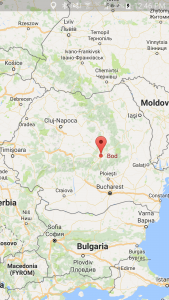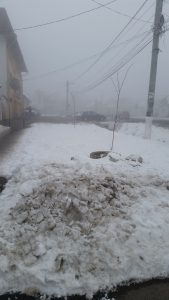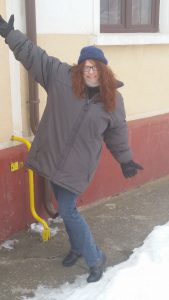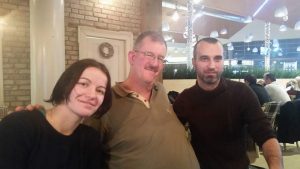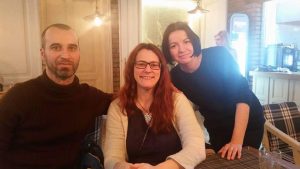 BRASOV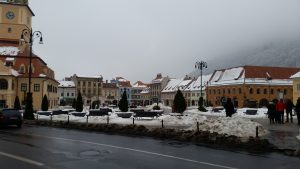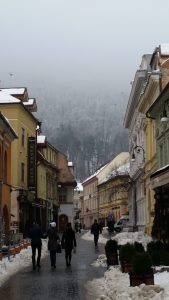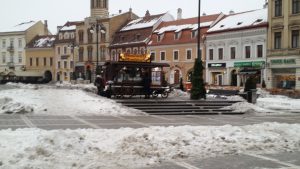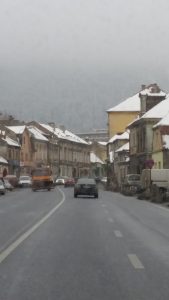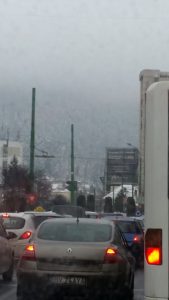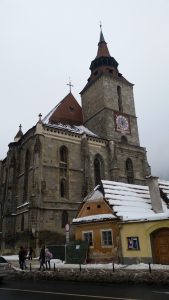 FOOD AND DRINK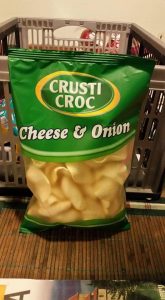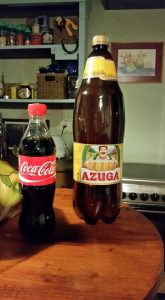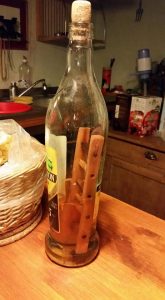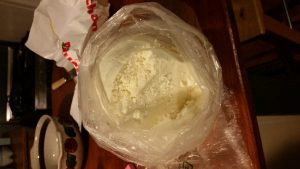 LONDON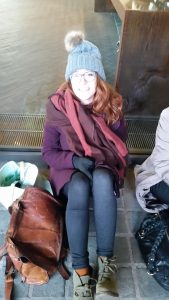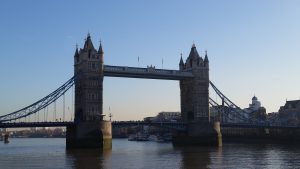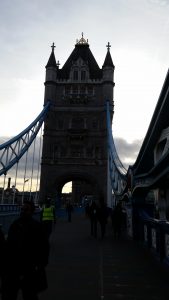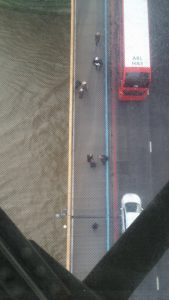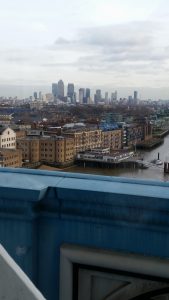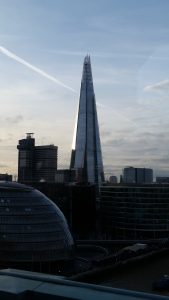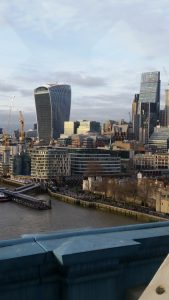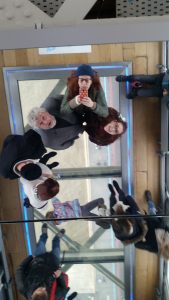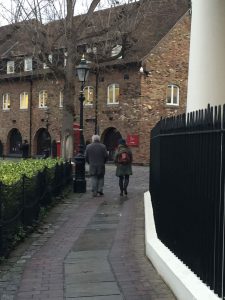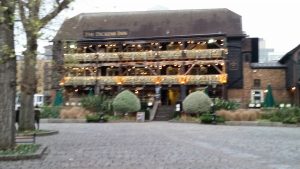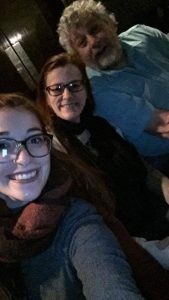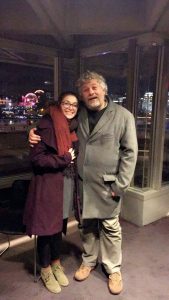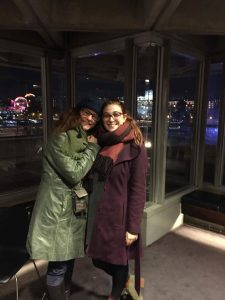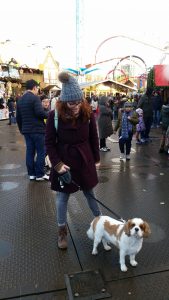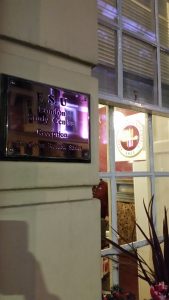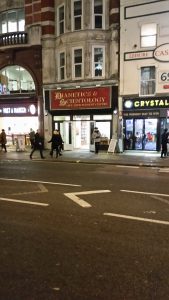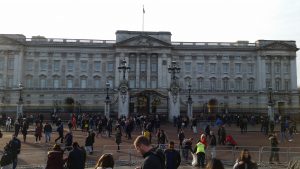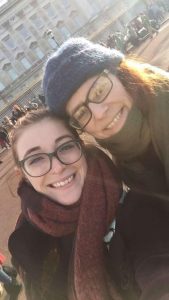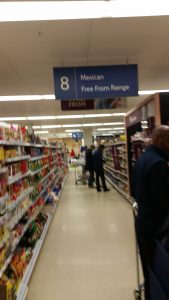 HAND (A teeny bit icky.)