Well, it was bound to happen eventually, I've been traveling for almost six months. Friday night I found myself temporarily homeless…at 11pm in London with the thermometer stubbornly set at under 30 degrees F. I
Well, it was bound to happen eventually, I've been traveling for almost six months. Friday night I found myself temporarily homeless…at 11pm in London with the thermometer stubbornly set at under 30 degrees F. I did not panic, as I knew that if worse came to worse…I had friends who would at least answer the door if I came a knockin at midnight…even if they might not necessarily be pleased about it. However, I would only take that route as a very-very last resort. I have made some dear friends here and I would like to keep in their good graces. Having me around can be trying enough when you are expecting me, let alone when I just pop up willy nilly. I left Exeter on Friday believing I had a reservation at a hostel near Hyde Park called "Smart Hyde Park Hostel". I was wrong.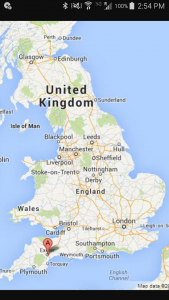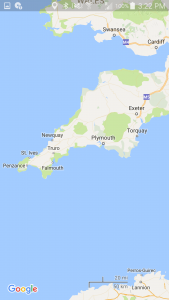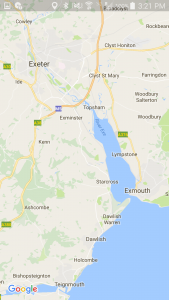 Last week on Wednesday I took the bus from Victoria Coach Station in Central London to Exeter…a city in the south of England in the area known as Devonshire. A friend of a friend (they met in the local theatre) who had been introduced to me via this blog invited me to come and stay with them for a few nights. I had it on good authority that Janet and her family were perfectly respectable and not at all inclined toward any unfortunate "ism's". Turns out they were more than just respectable, they were brilliant! Janet, her husband Chris and their daughter Nicola met me at the bus station in Exeter and I was treated to a personalized tour of the city given as only life-long locals could. Between the three of them, they covered local and English history, architecture, politics, art, theatre, sport and more. We took a tour of the local Guildhall, which has served as the centerpiece of Exeter's civic life for more than 800 years. Chris had been involved in local politics for much of his life so I got first hand details of the duties of a local British politician! I took some pictures of the Guildhall which you can see below…and I've also attached a PDF that explains everything about it in much better detail than I could. They showed me a pub in the city called 'The Ship Inn-St. Martins Lane' that was rumored to have had the famous adventurers Sir Francis Drake and Sir Walter Raleigh (a local boy) as frequent visitors. (As a huge fan of Queen Elizabeth I and that period of history, stuff like this makes me squishy.) I saw the sad remains of the Royal Clarence Hotel(described as England's oldest hotel) which burned down in late October. Also destroyed in the fire were thousands of dollars worth of artwork from Bob Dylan and Rollins Stones guitarist Ronnie Wood. Even a month later, there was a crowd outside the hotel taking pictures and mourning the loss. Exeter is also home to one of the best universities in the UK, ranked number 13 in the country and alma mater of such luminaries as J.K Rowling, Will Young, Thom Yorke, Stephen Dillane, Nicholas Pegg and Robert Shearman. Even a few royals!
The next day we first drove to Exeter Quay, a quaint part of the city that surrounds the canal. The area is in the midst of a bit of refurbishment and gentrification, and according to my hosts only a few years ago was seedy as hell. Now it is home to trendy restaurants and craft stores. The little shops were unique in that the wood, glass and metal crafts for sale in the individual shops were actually made right there in the rear of each store. The shops themselves were cave-like cubbies cut into the embankment rising over the canal. I found the area to be very charming and exceedingly English. Next we drove to Exmouth, a town on the coast… and I touched the waters of the English Channel. And nearly died from hypothermia. I think it was colder there than it had been in Germany on the coast of the North Sea. On the plus side, my face was so cold that the muscles were frozen and for a little while I had the effects of a botox shot without needing the needle. Unfortunately when I thawed I could feel my face slowly melting back to its original state. I am hoping I will still be rambling in the spring so I can go back when it is warmer.
On Friday, Chris took me on a drive through the Devon countryside before taking me to the bus station for my return back to London. I've said it before, and I will say it again…England looks exactly like you damn well expect it to…and like no place else on earth. The rolling hills, the pastures dotted with sheep, small villages where homes still have thatched roofs… Of course a ride through the English countryside wouldn't be complete without having the most excellent driver recite the first part of the poem " The Rolling English Road" by G.K. Chesterton as you are zizzing around…
"Before the Roman came to Rye or out to Severn strode,                           the rolling English drunkard made the rolling English road.                        A reeling road, a rolling road, that rambles round the shire,                    And after him the parson ran, the sexton and the squire;                            A merry road, a mazy road, and such as we did tread                                 the night we went to Birmingham by way of Beachy Head."
My apologies…I did not get any pictures as I was far too busy gawping and saying "ooooooohhh!" every two minutes.
Sadly, it was all too soon time for me to board the bus back to London. However, I have been given promises of a trip to Dartmoor and yummy 'Devon cream teas' if I am able to return for another visit in the spring, for which I am going to do my very best to make happen…even if only to be able to spend more time with Janet, Chris and Nicola.
I arrived back in London after 8pm and jumped on the 148 bus from Victoria Coach Station to the hostel where I had made reservations two weeks ago. Due to traffic around Hyde Park I did not get there till after 10. I was tired, but not cranky. Until I was told that I had been marked as a "no show" and my room had been given away… "they had no more beds… so sorry! But here is the log in to the wifi so you can find another room…have a good evening!" Needless to say, my "crank-o-meter" shot up to 11. There was nothing I could do about the situation but try to find another room. They offered to let me sit in their little café while I searched, but I preferred to stand right by the front desk so I could glare at them and make sure they could hear me muttering imprecations and disparaging remarks concerning their parentage and intelligence under my breath. (I've been in England long enough now that I am getting the hang of practicing the "passive aggressive moaning" of the natives. It's damn near a sport here.) So…. Friday night…in London…at Christmas…not a lot of hostel options remained. And because my budget is so extreme, I don't have extra money for when things go 'tits up'.  So, at times like this.. you start examining options…
1. Wake your friends.                                                                                        2. Go back to Victoria Coach Station and book an overnight bus to somewhere.                                                                                                      3. Go back to Victoria Coach Station and just stay there for the night trying not to look homeless.                                                                                       4. Find an all-night "something" and drink coffee to stay awake till the morning. (I carry a cafetiere and coffee with me everywhere so as long as I can find hot water, I can have my black-bean brain juice.)                  5. Find a better option as all of these suck.
I decided to hump my tired butt and luggage to the hostel I had stayed at in July as I knew it was fairly close and I had struck up a friendly bantering kind of 'acquaintance-ship' with the gentlemen behind the desk when I was there before.  I hoped like hell they were working.
They were. And they found me a bed and gave me the best deal possible…and every discount they could come up with for that night and till I leave to head to York.(Safestay Holland Park Hostel.) It is still more than I had planned on, and I have to re-think my plans for the next few weeks…but it was an interesting learning experience. I was prepared to have to try one of the less desirable options, but I admit I am grateful that this time I did not have to.
So, I have a few more days to stomp about London before heading to York for a bit. I am writing this in the café at the National Gallery. Next, I shall head out into Trafalgar Square and start working on fulfilling a mandate from a friend of mine for "more Christmas pics please". And coming soon…part 2 of my Florence adventure! Till then,
Cheers!
Rebecca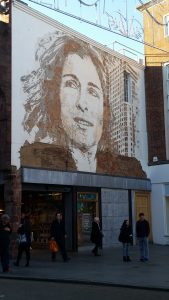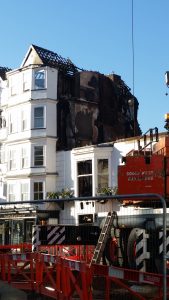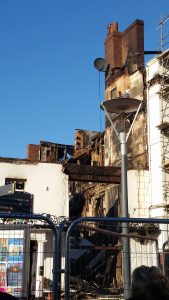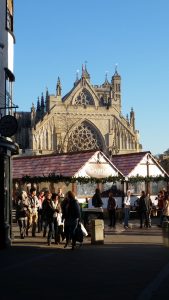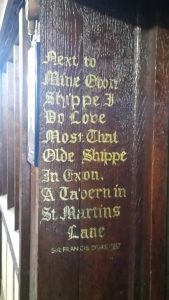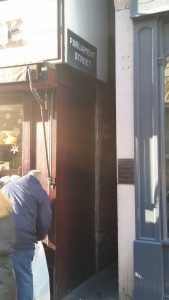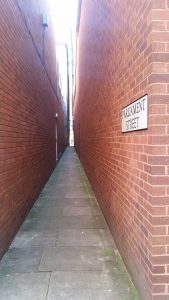 The Guildhall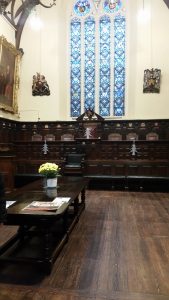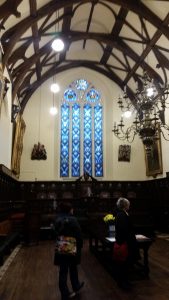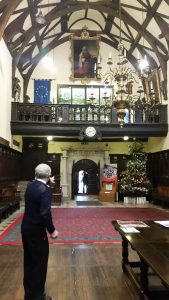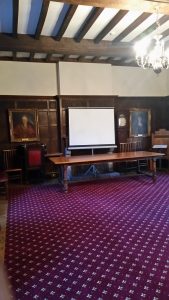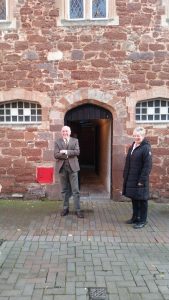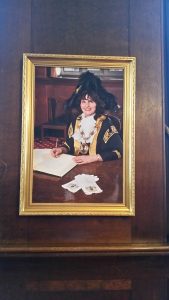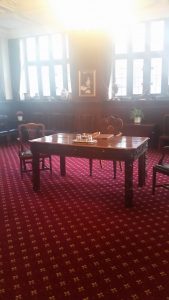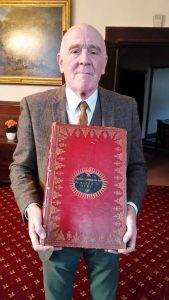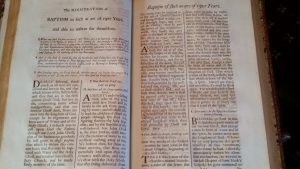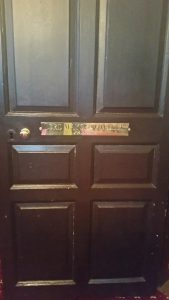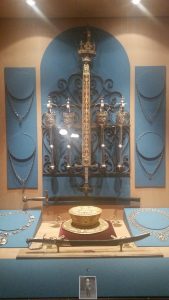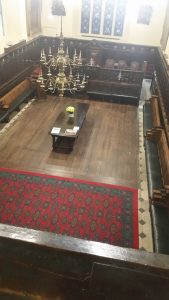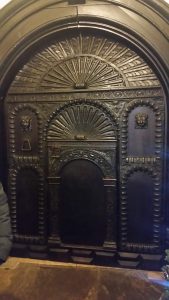 Exeter Quay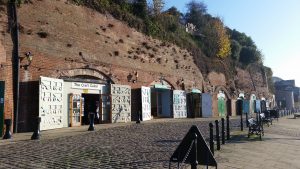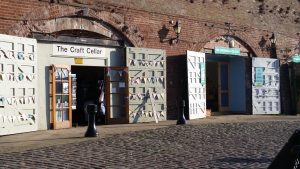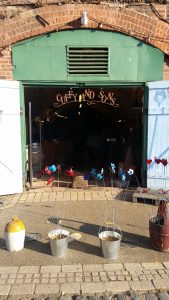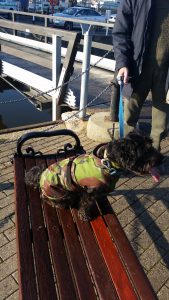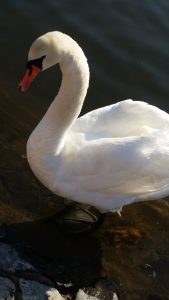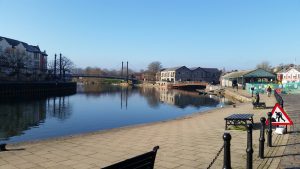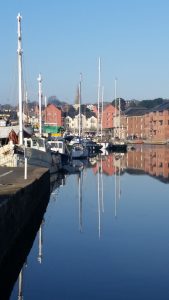 Exmouth and the coast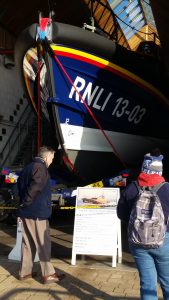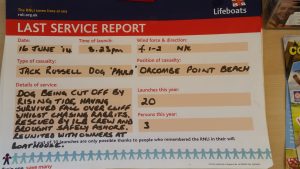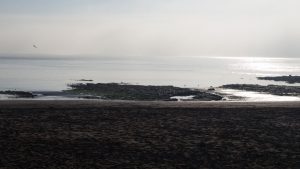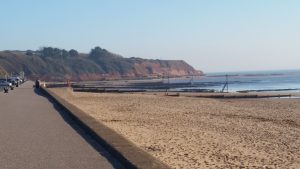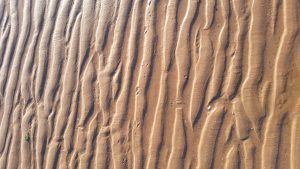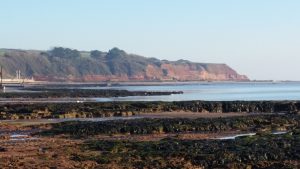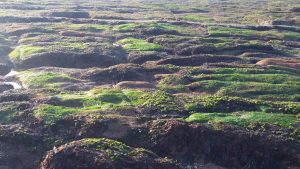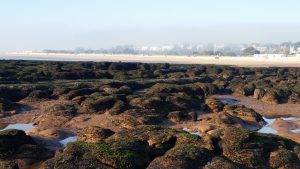 I am very sorry I do not have pictures of the countryside. God willing I will be able to go back in the spring, in which case I will make sure to take tons of pics for your viewing pleasure.
I am also adding a brief explanation of the British political system. I was quite shocked when after Brexit…Prime Minister David Cameron resigned and only a few days later Theresa May was the new PM without anyone voting! Turns out…the PM is the head of whichever political party has the majority in the House of Commons. The two major parties in Parliament at the moment are the Conservative and Unionist Party(centre-right wing) and the Labour Party (centre left). The Conservative Party currently has the most elected representatives. At the time of D.C.'s resignation, Theresa May was the head of the party…hence she became Prime Minister. When citizens of the UK vote…they are voting for the head of their chosen party. Other parties include The Scottish National Party, Liberal Democrats (LibDems), Democratic Unionist, Sinn Fein and even a few more. However they do not have near the numbers that the top two do.