I am on the balcony of my borrowed flat, as happy as a pig in poo.  You know that rare feeling of contentedness that goes deep down into your gut? Yeah…that feeling. Which is good
I am on the balcony of my borrowed flat, as happy as a pig in poo.  You know that rare feeling of contentedness that goes deep down into your gut? Yeah…that feeling. Which is good because yesterday was a little fraught. Before I left Florida I pared my bills down to the bare minimum, but there are still a few I need to keep on top of. And in true fashion, yesterday Verizon decided to throw a kink into my day. After many (expensive) phone calls, I got it partly resolved, but my mellow was severely harshed. But today…ah..today is BELLISSIMO!! The weather is absolutely perfect…sunny and 54 degrees. I am finally becoming acclimated to the season because I am wearing only a sweater and it is below 60. I may survive the winter over here after all! This is my view. See Lemmy peeking out?  I have my delicious lunch and am enjoying a chianti in a Pink Panther glass. Lemmy has now joined me and is doing his best to get me to share.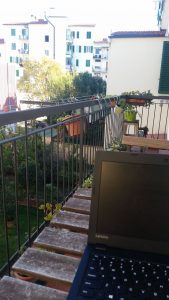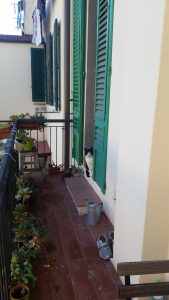 I have now been here in Italy for a week. I alternate my days between exploring and resting. I have found that I absorb my experiences and enjoy them more if I don't exhaust myself trying to do everything at once. My days off are spent reading and working on my stories. A friend of mine introduced me to the works of Julian Barnes, a British author, and when I need a break I curl up with Julian and can rest my fevered brain a bit. I must admit I have fallen in love with Mr. Barnes. I tend to get writer crushes…my last one was Gregory Maguire of "Wicked" fame.  I've also started reading Gustave Flaubert, a French writer from the 1800's. If you are a die hard bibliophile as I am, I highly recommend all three authors. Oh, and I must put in a plug for a friend of mine, the clever and witty British writer Robert Shearman. His short story collections are beyond brilliant. He is also the friend who turned me on (pun intended) to Julian Barnes. When I get back to London I must buy him a pint or two in gratitude. I did get a piece of good news yesterday. My daughter Hannah has purchased her ticket to spend Christmas with me in London. Christmas, in London, with my baby girl! That right there is a dream come true.
After taking a few days to acclimate myself and recover from my travels, the first museum I hit was the 'La Specola'… the Natural History Museum. Claudia, the owner of my borrowed flat told me about it, and their unique display of anatomical waxes from the 16-1700's. (pics below) I have a tendency to be drawn to the gruesome, and the museum did not fail. They also had the requisite collection of stuffed creatures from around the world. As I was walking about, I happened upon a Scottish gentleman named Richard and his American friend Cassandra and they invited me to accompany them on the tour of the museum. This proved to be a boon for me, as Richard was very knowledgeable about taxidermy and the various flora and fauna on display. I learned far more about the exhibits than I would have on my own.  The waxes were as stunning as Claudia had promised. The only downer to the day was that as I was walking back to my flat, my boots fell apart. I must say, for a cheap pair of fake leather boots, they have stood me well over the past 5 months. Now, I understand that I am in the perfect place to procure new high quality leather boots, but if you have been keeping up with my blog you know that my budget does not allow for such an extravagant expenditure. However, thrift store shopping was how I acquired my new winter coat so I am counting on my luck to continue as I explore Florentine thrift stores in search of new boots.
Traveling on your own can get a bit lonely, especially in a place as exquisite as Florence.  There is also the psychological component of realizing you are far from home, you do not know a single soul, and you do not speak the language. I found myself longing for a companion…perhaps someone local who could show me Florence as only a native could. So, what is a single woman in my situation to do? There was only one thing I could think of…Tinder. It had worked well for me in Cambridge last year, so I figured what the hell. I was very clear in my profile that I was NOT looking for a 'hook up', and that I did not speak Italian. Within minutes, I was flooded with responses from Luigi's, Paolo's, Guiseppe's,..etc.  I was able to immediately rule out anyone who responded in Italian, as that meant they had not looked at my profile. I was further able to clear the field of the men who told me they were married but wanted to give me an 'Intimate Italian Experience'. One gentleman peppered his responses with kisses and hearts. Not that I would be in any way be against a romantic fling while on this trip…but certainly not in those circumstances. Finally, one man seemed to fit the bill. He replied that he did not know English very well, but that he would be happy to show me around Florence. He was older, in his late 50's, and a singer with the Opera di Firenze. We chatted for a bit..(thank you Google Translate!) and we agreed to meet for lunch the following day.
I chose well. I met him for lunch and between Google Translate (which we both had on our phones) and excessive hand waving and theatrics we managed to communicate. I allowed him to choose our menu, and I must admit, he did a fine job. I am pretty sure I ate tripe which I found disgusting in the US but here in Italy was delicious.(I also tried liver for the first time in 42 years when I went to lunch with Claudia on the day I arrived. Chicken liver pate. You have no idea the level of bravery it took to try it. Last time I had liver I was 5 and promptly threw it up) We also had fried artichoke, and an odd dish that seemed to be thin, deli style roast beef slathered in mayonnaise with tomatoes and capers on top.
After lunch he offered to take me for a drive. Now…here is when I became a little nervous. Can you blame me? On the one hand, he seemed very sweet and not at all murdery. On the other hand…well, I am sure you know what the other hand was. With my overactive imagination I pictured myself shackled to a radiator in a cabin on the mountains forced to be this mans American red-haired sex slave. But I went with my gut and said yes. (I did take precautions. I texted my daughter and told her what was happening so if she didn't hear from me she could contact the Carabinieri.) So, off we went! Our conversations in the car were very amusing as because he was driving it was not safe to use Google translate. He would rattle off something in Italian, and I would respond with some smart ass comment in English, such as " Is that where you are going to murder me?" or " I have no idea what the fuck you just said to I am going to nod and smile and hope that I didn't just agree to a threesome." And then we would both laugh. It was surreal…but also a little bit fantastic.
He drove me up into the mountains above Florence, to the convent of San Francisco in the town of Fiesole. The view of Florence was breath taking. I have a habit of gasping in delight when I see things of great beauty and he found this very amusing. I think it pleased him, that he had taken me somewhere that obviously moved me very much.  The church was small, but had some amazing artwork and a tiny museum. He asked me many times to pose so he could take my picture. (I say "asked".  What he really did was take out his phone and pantomime taking a photo so I could understand what he wanted. I always feel silly when posing for pictures, so I have no idea what he ended up with. Most likely a series of pics of me looking constipated. Whatever, he seemed happy.)
We left the church and walked down the hill to a balcony overlooking Florence, and I sat on the railing to take in the view. Suddenly I hear a bass voice beginning to sing behind me. I turn around, and there he is…belting out what I assume is a song from an Italian opera. So, here I am, on the top of a mountain in Italy, being serenaded by an Italian man whom I have known for all of two hours. Talk about surreal. (Needless to say, he has a beautiful voice.)
As we were walking back to the car, he invited me to come to his house for dinner. Now… that was wayyyy past my comfort zone, so I politely declined. (By they way, he told me on the way back that he owned a cabin in the mountains.) He drove us back into Florence, but before taking me home we went to the Piazzale Michelangelo, which is a square with a panoramic view of the other side of Florence. The sun was setting and the Duomo was glowing and the lights of Florence were gleaming brightly. It was exquisite.
I am terribly grateful to Paolo for giving me such a lovely day, and taking me somewhere I never would have known about let alone seen. I hope he enjoyed our day as much as I did. He is a very sweet and kind man and I wish him all the very best. He told me he was auditioning for some international tours, so perhaps one day in the future I will be surprised  by a beautiful bass voice singing to me in greeting.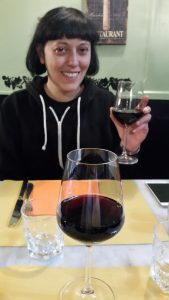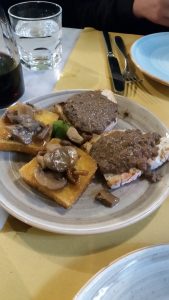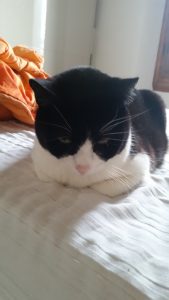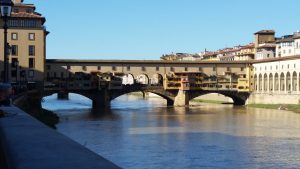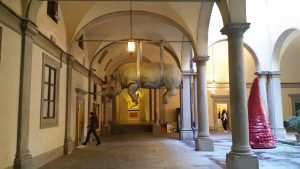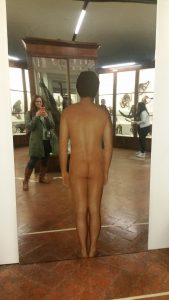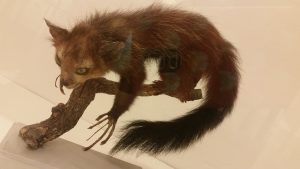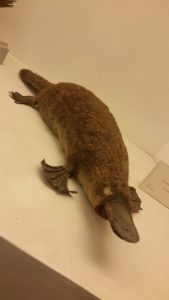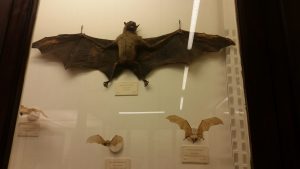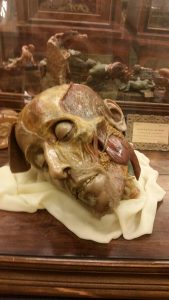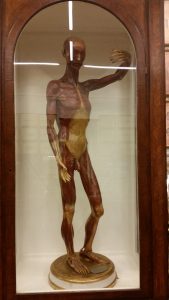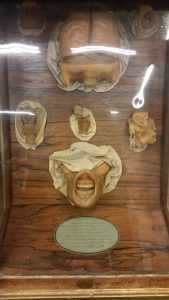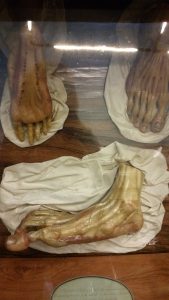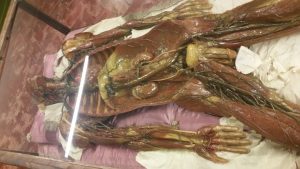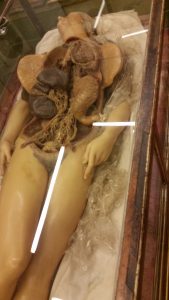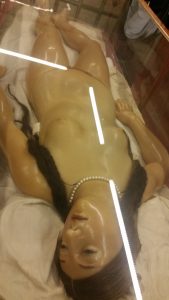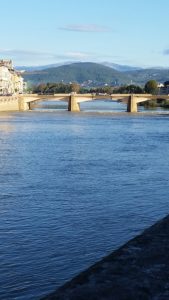 Now we get to the pics of my day with Paolo.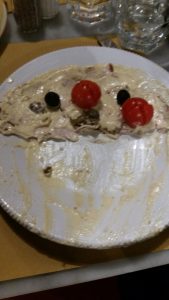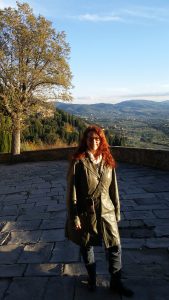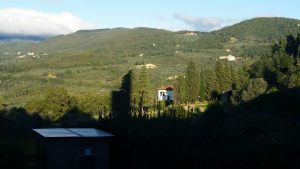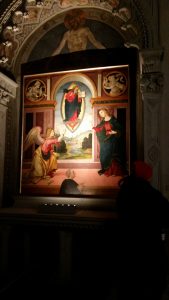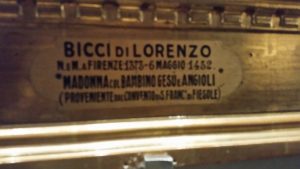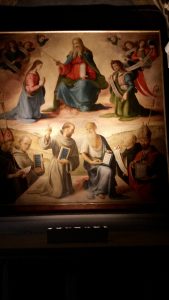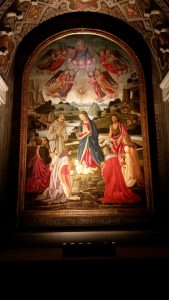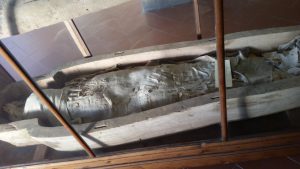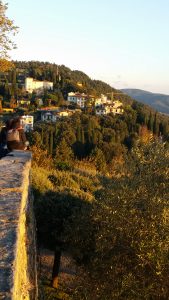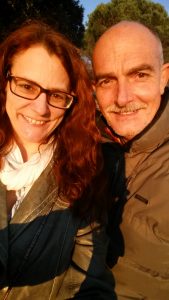 Now, the view of Florence from the other side.