I'm sitting in a small café in downtown Oldenburg, named 'Cupido'. Sylvia and I came here for lunch two weeks ago when I was on the hunt for a proper winter coat. Which I found,
I'm sitting in a small café in downtown Oldenburg, named 'Cupido'. Sylvia and I came here for lunch two weeks ago when I was on the hunt for a proper winter coat. Which I found, by the way..in a thrift store for only 29 Euro. It's a soft, sage green leather trench and is by far the coolest piece of clothing I have ever owned. Anyway, today Ernst had a Hebrew class in the city and said if I liked, he could drop me off for a few hours. So here I am, enjoying a coffee and sammich. I just purchased three new watercolor pencils from the art store and am singularly pleased by my acquisition. Due to the limitations imposed upon me by my wee little suitcase, not to mention my budget…I rarely buy anything non-essential. Perhaps that is why my small 4 euro purchase is bringing me so much pleasure. (Warm grey, cold grey and brown ochre, if you care)
I don't know if I mentioned it previously, but before I left York in September I helped out at a pub for a couple of days that is run by my friends Sherrilee and Paul Turner.   (http://www.bayhorsemarygate.co.uk/)  I learned all sorts of things and had a blast. Of course the first order of business was to learn how to "pull a pint". This is harder than it looks. Getting the perfect foam to liquid ratio without making an unholy mess took me a few times and a number of bar towels and apologies. (In my defense, I did offer to drink all of my mistakes) It's a complicated process of tipping the glass at the appropriate angle, placing the nozzle correctly, knowing when to stop…etc. Also, each type of beer foams differently due to the amount of carbonation which varies from brand to brand. I learned that the perfect amount of foam…or "head" should be 1/2 to 1 inch and with a slightly rounded top. Definitely no more than 1.5 inches, or customers will feel they aren't getting their money's worth and might call you a  wazzock…or even better… a mingebag. Luckily for me, the clientele at the Bay Horse were much too genteel to resort to name calling. Here is a picture of a typical English beer. Not the best pour mind you, but typical.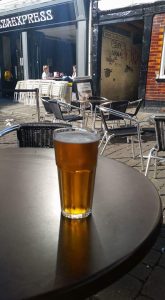 (And also ironic, because I met my friends who own the Bay Horse Pub about 2 minutes after I finished this beer . They were inside the pub I am sitting outside of in this picture, and began singing "Country Roads" quite loudly. As this was my second pint, I was feeling friendly and conversational and went inside to meet the John Denver fans/ possible West Virginian's. What I found was a lively group of Yorkshire folk, plus one Scot. )
Fast forward to yesterday. Sylvia invited me to walk with her and Motek into Sage (pronounced "zaga") to attend a small crafts festival. I am a huge fan of any event with the word "festival" in it, so was delighted to accompany her. (One of the best parts of arranging my lodgings via the pet sit website (mindmyhouse.com) is that I often have the opportunity to experience a part of the world as the locals do. I am the only tourist for miles. Of course that also means that everyone I meet expects me to speak German.) Sage is a wee little town only a short walk away, which as far as I know only contains a few houses,a gas station, restaurant, and brothel. And on this particular day…a craft festival. It had everything you would expect out of a small German town event, including traditional food and drink. (I just remembered that when I was 5 I lived in a town in Maryland named "Germantown". Coincidence?)
The building with the crafts in it was very small and crowded, so I volunteered to stay outside with Motek so Sylvia could take her time exploring. Now, Motek is a very large and gorgeous white shepherd who draws attention wherever he goes, and I was a complete stranger in a very small town…so we stood out a bit. Many friendly people approached me with the intent of starting a conversation…only to be foiled by my ignorance of their language. I must have said "Entschuldigen Sie, Ich bin aus Amerika und spreche sehr wenig Deutsch" at least 15 times. (My apologies, I am from America and speak very little German) Only two people spoke any English at all, and only one on a conversational level. There were two beautiful little German girls who looked to be around 7 years old or so who were not the least bit deterred by my limited language skills. We chatted for 5 minutes about all manner of things, and even though they understood zero English…we communicated effectively via hand gestures, facial expressions and tone. They took turns asking me questions and when I would respond in English, they would very solemnly nod as if I had just confirmed for them the validity of their statements.  It helped a bit that I had been the parent of my very own talkative and friendly seven year old girl person, so I knew I could probably get by with a few well timed Ja? Ja. Ja! Ja? Ja's.  I must admit, I thoroughly enjoyed our conversation and was sad to see them go, even though I have absolutely NO idea what we talked about.
Sylvia eventually emerged from the building and it was my turn to explore the craft hall, the inside of which turned out to be a perfect replica of a Disney version of a German craft hall. There were wooden toys, and holiday items and baked goods and knitted things…and everything was high quality. Not a bit of shab to be seen. There was even a group of women spinning their own yarn! I was completely charmed…even more so because these were real Germans and real handmade goods…not some sort of pre-packaged "German Experience".
After I perused the crafts, it was food time. There was bratwurst and steak on offer, so of course I decided to get both. I was informed by Sylvia that the "steak" was not beef, but pork. I got in line and managed to order my food without embarrassing myself too much. "Ein steak und ein bratwurst bitte." It was after I had been handed my plate of food that I realized there was one very important phrase of German I had neglected to learn…"On separate plates, please." You see, I am not a big fan of food touching. Especially anything juicy or saucy. But I am a 47 year old grown up who does understand that sometimes I cannot have things my way. And there was no way in hell I was not eating this food. So I managed. One of those milestone moments, you know? Now, there was only one thing missing from my meal. The beer, which Sylvia graciously went and got for us. This is what she came back with.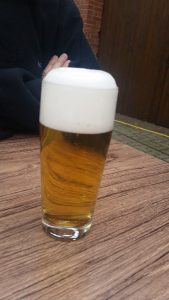 I must have had an odd expression on my face, for she promptly explained that this is how beer is served in Germany… that the head should be at LEAST three fingers wide.  And don't bother complaining about it, because that's how beer is done here and they give zero shits what you care about it. An attitude which I found right and just. Here is an article explaining in more detail.
http://www.businessinsider.de/how-to-pour-beer-like-a-german-2015-8?r=US&IR=T
Needless to say, I downed the beer (and two more) with gusto, and despite the overlap on my plate managed to thoroughly enjoy my food, along with the company of my friends.
I will be interested to find out how they serve beer in Italy. Oh, I haven't told you yet have I? I'm heading to Florence next! For two weeks, right in the city, near the the river Arno. I have my train ticket already. Ernst(bless him ) is going to drive me into Bremen on Monday the 7th, and I will take the train from there to Munich where I will switch trains for the overnight trip to Florence. I even managed to score a bed on the train! Its in a room with 5 other beds, but its on a train, which makes everything much cooler. I will be arriving in Florence the morning of the 8th. I am pet sitting a kitty this time, named "Lemmy". It will be difficult to leave Germany and Sylvia, Ernst and Motek. I have become inordinately fond of my Dutch trio and will miss them, but the journey must continue.
I have added photo's below of the craft festival. Its time for me to pack up here and go meet Ernst in front of the pharmacy. I am hoping to get back to Oldenburg one more time before I leave. There is a church and a museum I am keen to explore.
Ciao for now!
Rebecca