It's cold here in Germany. Down to the high 30's(F)…which for this Florida girl might as well be -20. Time to start wearing a hat. Amber lent me one before I left York, along with four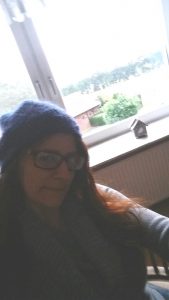 It's cold here in Germany. Down to the high 30's(F)…which for this Florida girl might as well be -20. Time to start wearing a hat. Amber lent me one before I left York, along with four sweaters. And thank god she did, otherwise I would be dead by now. I have got to toughen up.
I saw a wild hedgehog last night. They are all over the place here. A bit of information about Germany that was not mentioned in my obviously sub-standard Maryland public school education. Other things I've learned:
The left hand lane on the highway is for passing only. If you are caught cruising on it you will incur a hefty fine. Also, you may NOT pass on the right.
Graveyards in Germany are insanely manicured and sculpted works of art.(see more below)
German traffic lights use yellow twice- between the green and red, and then again between the red and green.
There ARE areas of the Autobahn that have speed limits, usually 130 km/h, but in more rural areas it is Speed Racer time!
Some restaurants still have a 'smoking section', although they have to be completely enclosed and separated from the rest of the eating area.
In order to get a grocery cart, you need a doober. (I have no idea what they are really called.) Its a small round plastic "coin" about the size of a nickel(or pound coin) that you slide into a mechanism that unlocks the cart, and when you lock it back up you get your doober back. They often have advertising on them. The one I have was accidentally left in a cart by the person who used it before me and has the logo for a Neo-Nazi group. I spit on it before I use it. (I think you can also use coins, but I will stick to my spit covered Neo-Nazi doober.)

Doober next to a pound coin

Doober putter inner

There is a German version (not affiliated) of Home Depot called 'Hornbach'. It even has the orange theme. I went inside, and other than everything being in German, it felt and smelled exactly the same.While some words in German are easy to figure out, others try to fool you. I was in a bookstore, and had no problem with 'Physik, 'Chemie', 'Biologie'…etc. Then I came across a section called 'Schwangerschaft'. It was right next to the Psychology and Sexuality section, and based on my towering intellect, I deduced that it was the porn section. In my defense, I am well aware that Germany is not as prudish as the US, due to the brothel boldly located only a ball toss away from where I am staying. And lets face it…'schwanger' and 'schaft'? Come on…you would have thought the same thing. (Turns out it means 'pregnancy')

Home improvement store

Prostitution is legal in Germany (since 2002)…hence the local brothel. It just looks like a strip club. I admit to being disappointed. It should look like the set of Cabaret. I should offer my services. (As a scenic artist…not a prostitute. Having a brothel on my resume/C.V. would definitely make it stand out.)

Brothel
On Sunday, Sylvia and Ernst took me to the town of Visbek. But before we headed to the town proper, we stopped by the 'Visbecker Braut and Brautigam', which translates to 'Visbek Bride and Bridegroom'.  In the middle of woods that would do the Grimm brothers proud lay a series of very large stones…AKA Megalithic structures…that date from about 3700-3200 B.C. and mark burial sites. The 'Visbecker Brautigam' is 104 meters long, and is the longest barrow in Lower Saxony. Needless to say, I found these fascinating and couldn't resist climbing onto a few of the bigger rocks. As far as megalithic structures go, I prefer these to Stonehenge. You can't even touch Stonehenge, let alone climb on it. Underneath a few of the structures were interesting looking niche's that I would have liked to crawl into and explore. Especially knowing that lying beneath would be the bones of people who had lived here over 5000 years ago and lived lives so vastly different from my own as to be almost beyond comprehension on both sides. (I would like to go back and bring my laptop…see what stories the atmosphere can inspire. ) There are many of these megalithic structures scattered all throughout Northern Germany. This particular cluster happens to be in the woods behind a restaurant. Also passing through the area is the German portion of the Camino de Santiago…or 'The Way of St. James', a pilgrimage route that passes through Europe ending at the shrine of the apostle St. James in Spain. There are markers all along the way, and I came across a couple of them near the stones.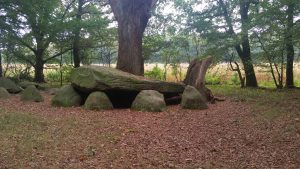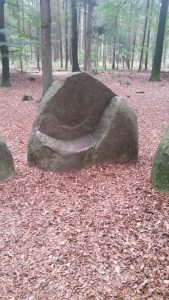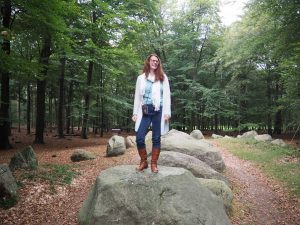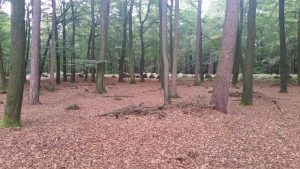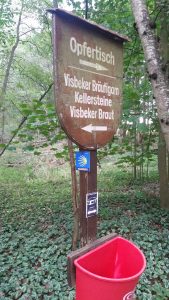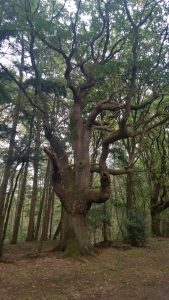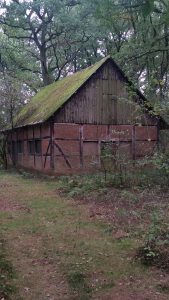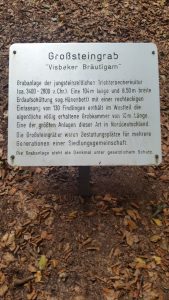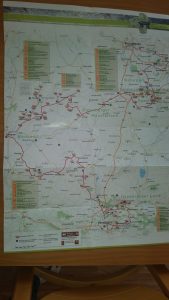 After exploring the forest, we then moved on to Visbek proper where they were having a street festival. Sadly it was raining, so the festival wasn't terribly festive. Still and all, it was fun. Many of the shops were open, and there were street vendors selling food and merchandise. There were even a couple of carnival rides and games. This was also where I explored the local graveyard. I have never seen the like. Perfectly sculpted landscaping on each individual family plot. As beautiful as this one was though, I still prefer the wildness of the one in Leeds.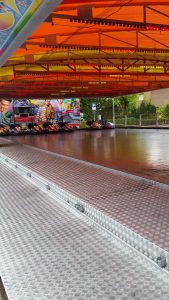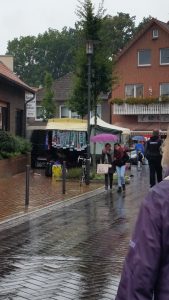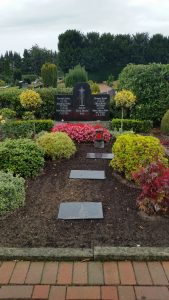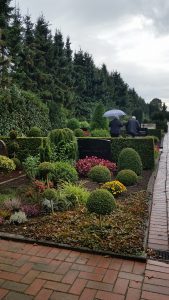 Next we moved on to the town of Wildeshausen. Larger than either Grossenkneten or Visbek, Wildeshausen has a high street with chic shops and eateries. We stopped into a café and had coffee and strudel before strolling down to take a look at the local Lutheran church…St. Alexanders. It was originally a Catholic church of course, from the year 851 A.D.  After the reformation the relics and statues were removed as was standard during that time. The exterior is impressive and very solid looking, and the inside is plain but elegant in its simplicity.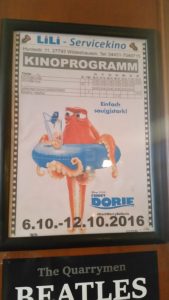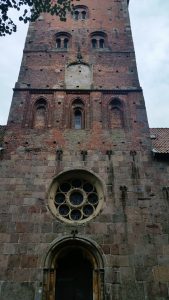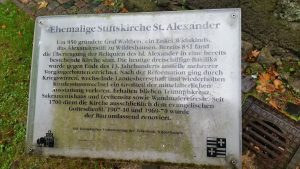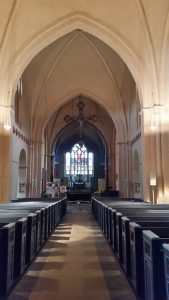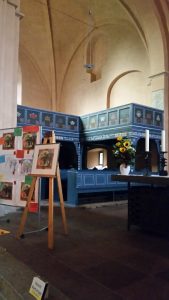 I've been here in Germany for a little over two weeks and can't believe how quickly time has passed. There is a peacefulness to this area, and I can feel myself beginning to truly relax. Ernst and Sylvia have been wonderful, and I adore Motek, my handsome occasional charge. Deutschland ist gut!