I don't know about you, but I am the worst at packing before a trip, always leaving it to the last minute. Luckily, this particular adventure would be a road trip so space wasn't the
I don't know about you, but I am the worst at packing before a trip, always leaving it to the last minute. Luckily, this particular adventure would be a road trip so space wasn't the premium it usually is. I found myself tossing things into the car that would be useful only in a highly specific and unlikely event. But we all know that feeling, right…of packing and seeing some random piece of shite and thinking, "Nah, I won't need that". And then immediately second guessing yourself and arguing internally over whether it's really likely you will need your Doctor Who cardigan when you have already packed two sweatshirts, a jacket, a long coat and three sweaters. But in the back of your mind, you become positive that at some point in your trip you might find yourself at an unplanned stop full of Whovians and have no way to show your allegiance, so in goes the cardigan, along with enough snacks to feed the cast of Les Miz and seventeen pairs of socks. (Yes, I said seventeen…I know…but what if I needed the extra one to use as an impromptu ice pack or blindfold?)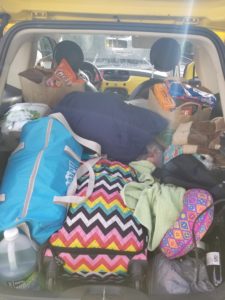 Once I had finally decided enough was enough and closed the trunk, it was time to meet my friend Cathie Bucko (See " Irmagorgon and a Waffle House" ) at her invitation for a bon voyage breakfast and gab sesh. Cathie is one of my best friends but since the arrival of her four grandchildren (soon to be five), not to mention her five "original" spawn…her free time is usually taken up with toddler shenanigans plus her job teaching at a local Catholic school.  I was glad to have a bit of time with her to catch up and eat bacon. Truthfully, it was a very heartwarming way to start the day.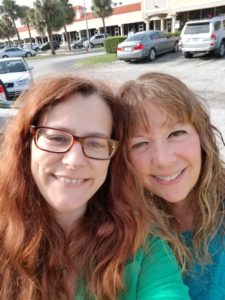 After breakfast, I hit the road and immediately turned back because in all the worry about snacks and cardigans I had forgotten my fucking passport.(Because Canada) Of course, while I was back home I was convinced I would need my electric kettle as well, so in the car it went in case of a ramen emergency.
FINALLY I was on my way, a little later than planned but still full of happy thoughts of good friends and bacon.
My first stop would be in Brunswick GA to visit with my friend Stefanie. We met in fourth grade when her Girl Scout troop merged with the one I was in. She had told me a couple of years earlier that I had not made a favourable impression at our first meeting, me being at that age a bit of an annoying spazz. I guess she grew to be fond of me, or at least tolerant because we remained friends all through Scouts and into middle and high school.
Stef has this amazing serene and mature manner about her, leading of course to her being voted class president in high school. Or maybe it was class Prime Minister? Class Commander? Either way, she was the boss, and wore it well. She now works in public safety and health (OSHA regs and all that) and I have no doubt her sharp eyes keep everyone on their steel toes. And if you ever need to know what anyone from the Walkersville High class of 1987 is up to,  Stef will know, or by god she will find out.
When I arrived, she had a lovely lunch prepared. And in a perfect example of peak Stef, when I admitted I had forgotten to bring a travel notebook (that on FB my friend Dan had suggested I create) she whipped one out that she had prepared complete with cover art and first entry. The woman is a bad ass at being intuitively thoughtful.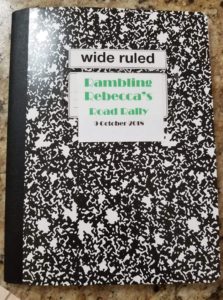 We had a great lunch together, reminiscing about scouts and school, but all too soon it was time to hit the road and be on my way to my next stop. Of course, as I was heading out the door out she handed me a bag of treats for the trip, including prune candies because SOMEHOW the woman knew I tend to get constipated on road trips. Seriously, I dont know how she does this! (And yes, I ate them, and yes, they worked like a right treat.)
Now I was on to Charleston, S.C. to see a former high school crush for the first time in thirty years. Danny Kuhn. Sigh. He was a senior when I was a freshman and it was infatuation at first sight. Not only was he handsome, he was also charming and funny. He was the star of the drama club and I was just a little nerdy theatre kid. I have always had a hard time hiding any emotion(and I was a teenager to boot) so all of my friends knew of my adoration, and certainly Danny did. But he was a consummate gentleman, and while my adolescent romantic fantasies never actualized into any sort of reality, we eventually became good friends. As he was older, we often begged him to be the procurer of certain age restricted purchases "required" for our use at various shindigs. Later, after he and I went off to our respective colleges, we would meet during breaks in his mother's art studio, get a bit sozzled and perform the entirety of the musical Phantom of the Opera. And I do mean THE ENTIRETY. We both knew every word by heart. I do believe his Phantom was marginally better than my Christine Daae, if only due to that damn high E.
When I moved to Brooklyn, he went with me in the UHaul, which turned out to be a damn good thing because I had an asthma attack on the way and we had to stop at a hospital, somewhere in New Jersey I think.  After I was good and ramped up on steroids and albuterol, we continued on our way, this time with Danny behind the wheel and me navigating As we were driving through Central Park, we got pulled over and Danny got a ticket…for driving through Central Park. I guess the navigator missed seeing a couple of important traffic signs.
Danny and I talked and laughed over all our hijinks at dinner. He has made a career as a working actor, which is no surprise to anyone who has seen him perform, the man is damn good. And the bastard hasn't gained a pound, he is still as slender as he was in high school. As we were discussing my adorable little adolescent crush on him, he offered a startling confession… during our time belting out show tunes ..HE had had a crush on ME! I never had a damn clue.
Bittersweet news indeed. But mostly sweet.
Later that evening in my hotel room, I thought about my first day on the road, and how glad I was to have this opportunity. While my shoulder ached, and it was still impossible to lay on my left side, it was the stupid shoulder I had to thank for this trip.
I was reminded often during the weeks ahead how important it is to connect to your past. To have people to remind you of who you used to be and how far you have come. And maybe even discover that you had meant more to some than you had ever suspected.
Next- Chapter 2-MORE Scouts and Stage