I love hotel rooms. I always ask for a late check out when I check in, so as to stay as long as possible. Also I have a tendency to explode when I'm tucked into
I love hotel rooms. I always ask for a late check out when I check in, so as to stay as long as possible. Also I have a tendency to explode when I'm tucked into a cozy room, with my belongings spread hither and yon as if I am claiming this room to be my home for the duration of my stay. I will curl up in the bed the morning of my departure, reading, writing, checking social media, cat napping or just enjoying the space. Which makes it extremely annoying when without fail…a housekeeper knocks on my door well before my already approved leave time. I'm then forced to come out of whatever dreamy reverie I'm fully immersed into to yell, " I have a late checkout!" in my grumpiest voice.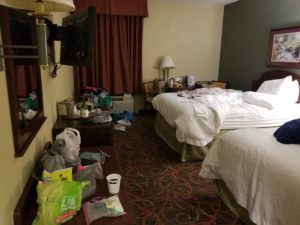 I understand they want to get into my room to clean as soon as possible, but I've done my due diligence in requesting my checkout time and it's been approved. So leave me to it!! What if I'm boffing a hottie? Or having a wee bit of special "me" time? Or as happens occasionally(but not frequently enough really) taking a well deserved and frankly overdue shit? I mean, I am a champ at being able to empty whatever my midsection wishes to expel in all sorts of locations, be it trains, airplanes, hostels, restaurants, offices ferries, theatres, rest areas or even a palace or two. But if I am traveling and have the luxury of a hotel room I've paid for in which to relax, take my time and do things properly…I DO NOT WANT A KNOCK ON THE DOOR. It's bad enough to get that knock in a public space. (However you should know that when that knock does happen, my tendency is to reply "Come on in!" in a chipper friendly voice. Sends them away lickity split, especially on planes.)
My first night on this trip, I was staying at a Hampton Inn, thanks to a friend who works for Hilton and has added me to his Friends and Family plan. I could never be begin to afford this level of luxury on my own. Left to my own devices I stay in questionable lodgings in order to save funds. Also, because they amuse me. Although mainly the first reason, but I'm the sort who tries to find turn a sows ear into a silk purse whenever I can.
This particular morning, as I was attempting an unusually difficult expulsion, I was mentally prepared for the "knock of interruption". However I was NOT prepared for this housekeepers level of enthusiasm for her job. I was close to achieving my desired goal when I heard the "click" of the door being opened, and to my dismay in she walked. Of course I had left the bathroom door open, because WHY WOULDN'T I? The next thirty seconds were excruciatingly awkward as she stood in the doorway staring at me seated on the toilet, pants around my ankles with my laptop perched on my naked knees. We stared at each other for a billion years before I offered up a rather subdued version of my usual "I have a late checkout?"
She backed out, offering up numerous "I'm sorry's", even continuing to say them after the door was shut and she was back in the hallway.
After the interruption, continuing with my endeavors was no longer an option as I had lost valuable momentum when my sphincter tightened at the moment of the unexpected entrance.
After packing my belongings, I went to open the door to leave, and she was still there in the hallway! More "I'm sorry's" followed, but what does one say in this situation? I decided to go with "The room is all yours now. Have a nice day." and trundled down the hallway with my shite.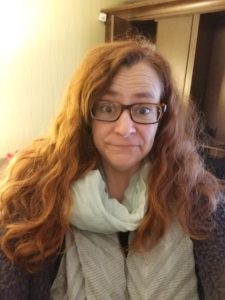 Welcome to Day 2 of my adventures.
I ended up having to complete things at a truck stop en route to Charlotte N.C. for lunch with another friend from Girl Scouts and school, and I make no apologies to whomever entered the restroom after me. It didnt have to be that way. (Oh, and thank you Stef for the prune candies!)
I made it to Charlotte feeling ever so much lighter and met my friend Merry at a Panera near her office. Merry is a year younger than me and, like Stefanie in the previous post we grew up together in scouts and school. Her mother was co- scout leader along with mine, so we both had an extra bit of precociousness added to our personalities. When your mother is in charge, you tend to get away with more hijinks, fair or not.
Merry and I had a strong bond from the get go, not only due to our parental roles, but also because both of us had stuffed animals we brought on every camping trip. Mine was a giraffe named Gifford, and hers was a rabbit named Hoppy. And we discovered after chatting at Panera that we both still had our respective "lovies" and would until the day we died. Merry asked if I had taken Gifford with me to Europe and was surprised when I told her no. I wanted no chance of him being lost. (I did tell her that I HAD taken a pillow and my blanket from childhood along. Judge me I'd you want, but I dont care. I just told you a story about my poo…I'm clearly not stingy with weird personal info. Also, pillow and blanket along with me on this trip. #nofucks)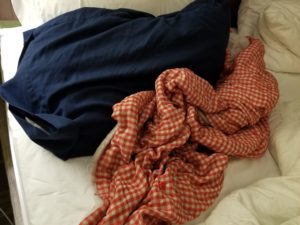 I did end up apologizing to Merry at Panera for often hiding Hoppy from her on frequent Scout excursions.
I love how outward appearances are never a good indication of the depth of a person. When I first saw Merry as I entered Panera, I could not help but be impressed at and a little awed by her bearing and dress. The woman can own an outfit. She is elegant and self possessed in a way I will never be. Sure, I can get dressed up and act as if I'm the bees knees, but Merry doesnt have to act it. Jewelry, makeup, clothing all put together in a look that immediately tells you that she is not to be trifled with, while still exuding warmth and affection. You would never meet her and imagine the small girl who was worried to tears about her stuffed rabbit. It's one of the delights of meeting friends from childhood and seeing who they have become. Merry has been through some trying times, but has overcome them all with class, dignity and a dominant will. I was thrilled to re-discover her and hope we can get together again for more than just an hour.
Again, all too soon it was time to get back on the road. I was due in Richmond to say with my high school drama buddy Dan, and it was a six hour drive. Which I managed to drag out to eight due to copious amounts of coffee speeding through my system.
(I often joke that I never purchase coffee or beer, I only "rent" them.)
I arrived at Dan's cute little cottage in Richmond around 10pm and we immediately settled in for a long night of drinking, snarking and political discourse, along with his partner Michael.
I LOVE long talks with Dan. We became close in high school via the drama program which we were both highly involved in. We even shared a kiss in our production of "Little Women". (I played Jo, and he was Professor Frederick Bhaer.)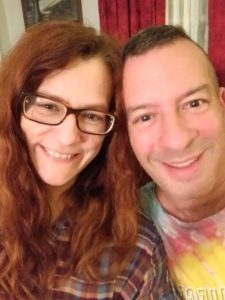 Dan is hard to explain in just a few words. One might even call him eccentric, which in my book is a mark of favour. I've been tagged with the description myself a time or two, which I don't mind. Both Dan and I would rather be known for being eccentric rather than boring.
He is a public school English teacher, and I imagine that he is beloved by all his students. He has an encyclopedic knowledge of literature and a heart for troubled kids. The most prominent traits Dan displays, the ones you will discover within seconds of meeting him, are his intelligence, wit and adoration of the city of Richmond. In fact, I would say his knowledge extends past the borders of the city and encompasses the entirety of the state of Virginia and its history. However, he is the most passionate about the Virginia and city of Richmond that existed at the turn of the century.
I swear to you that there is not a person alive who knows more about the history, families and culture of that time and place than Dan. His entire house is filled with pieces from that period, down to and including a player piano that is the the first thing you see upon entering his home. Not only does he expertly know how to use it, he also has a huge library of scrolls from the time period and can even name what social gatherings a particular song would have been played at.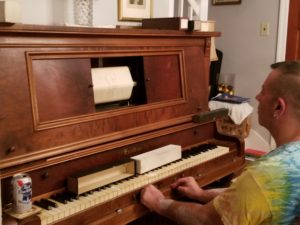 His knowledge even extends to the culinary specialties of the period. Last year at Christmastime when I was moaning on FB about missing mince pies from my time spent in England, he offered to make me one from scratch if I would come to visit. Twenty four hours and 1000 miles later I was happily munching on a warm and delicious homemade mince pie.
The man is a God damned treasure.
We stayed up till 2am chatting, until finally my throbbing and aching shoulder told me it was time to take a muscle relaxer and go to bed. I do hope he invites me up to Richmond again this Christmastime. What is a few 1000 miles between good friends and mince pie?
NEXT- Chapter 3  My sister from another Mister